New report says Trump is trying to sabotage Obamacare. Here's why that would be disastrous.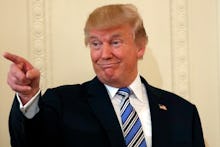 With no obvious path forward for Republicans to make good on their seven-year promise to repeal and replace the Affordable Care Act, President Donald Trump is said to be now pushing a new strategy: purposefully sabotaging the law best known as Obamacare.
A new report in Politico says Trump wants to stop subsidy payments to health insurance companies — funds that lower premiums for millions of Americans who purchase their insurance through individual marketplaces across the country.
And it's something he could do as soon as Thursday, Politico reported, a move that would raise premiums and throw the health insurance market into chaos, with insurance companies possibly pulling out of marketplaces altogether — leaving people with no options.
A handful of insurance companies have pointed to Trump to explain why they won't offer plans in the individual marketplaces in 2018, saying there's too much uncertainty around the subsidy payments, known officially as cost-sharing reductions.
And insurance companies that are offering plans say the threats to withhold the $7 billion in CSR payments have caused them to further raise rates for 2018 plans.
"If it were funded correctly, all these people could get coverage," Aetna CEO Mark Bertolini told CNBC in May regarding the ACA.
Additionally, studies show that the ACA is not failing, contradicting Trump and the Republican Party's primary talking point on the health care law.
"As I have always said, let Obamacare fail and then come together and do a great health care plan," Trump tweeted Tuesday. "Stay tuned!"
But cutting off the CSR payments could significantly weaken the law and cause pain for millions of people.
Trump hopes the blame for those problems will fall on Democrats.
"We're not going to own it," Trump said Tuesday at a lunch at the White House.  "I'm not going to own it. I can tell you, the Republicans are not going to own it. We'll let Obamacare fail and then the Democrats are going to come to us, and they're going to say, 'How do we fix it? How do we fix it? Or how do we come up with a new plan?'"
However, Trump would be responsible for the increased costs if he cuts off CSR payments.
"I don't think he realizes that he will be blamed for this," one person who spoke to Trump told Politico. "It could be a bad move."
Polls also show that voters would blame Trump and the Republican Party for issues with the ACA, given that the GOP has unified control of Washington.
A survey from the nonpartisan Kaiser Family Foundation in April found that 61% of people would blame Republicans for future problems with the ACA.
The final decision on whether the government will fund the CSR payments has yet to be made. However, even conservative Republican senators are urging Trump not to cut off the payments.
"I think they're going to have to be paid," Sen. Orrin Hatch, chairman of the Senate Finance Committee, told Politico. "You can't let people be without basic health care."