GOP Sen. Jeff Flake defends hijab-wearing challenger Deedra Abboud from anti-Muslim online abuse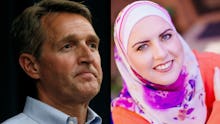 Sen. Jeff Flake (R-Ariz.) tweeted words of encouragement to his Democratic challenger after she was lambasted with an onslaught of anti-Muslim harassment and abuse online.
"Hang in there Deedra [Abboud]," Flake tweeted. "Sorry you have to put up with this. Lots of wonderful people across [Arizona]. You'll find them."
Abboud, who happens to wear the hijab, is running for Flake's Senate seat in the 2018 midterm election. She is currently campaigning against two other candidates in the August 2018 Democratic primary, but Abboud and her opponents face long odds: The last Democrat to win an U.S. Senate seat in Arizona was in 1988. Despite being an attorney with an accomplished record in community advocacy, several social media users became fixated on Abboud's religious identity following the announcement of her candidacy, the Hill reported.
"Get out stinking Muslim," a Facebook user commented on one of Abboud's posts.
"BAN ISLAM IN THE USA … WE HATE YOUR FILTHY DEATH CULT," another wrote.
Abboud thanked Flake for his support and for speaking out against the Islamophobic treatment she's received.
For his part, Flake has also been subject to backlash on social media for his defense of Abboud. One Twitter user replied that Muslims should be disqualified from running for office.
Right-wing social media personality Amy Mek lambasted Flake for pandering to a "Sharia Jihadi" — referring to Abboud — and brought up baseless conspiracy theories about the Democratic challenger.
Another social media user questioned why Flake would support Abboud, who founded and served as director of the Council of American-Islamic Relations' Arizona chapter, according to her campaign website.
Despite some opposition, however, many of Flake's constituents praised him for the tweet.
Sen. Chris Murphy (D-Conn.) tweeted that Flake is one of "the most decent" people he knows.
Meanwhile, one Twitter user pointed out that the level of kindness Flake showed in supporting Abboud should be considered the "minimum" requirement for basic human decency.