The Tesloop shuttles travelers around Southern California — but is it more than a glorified bus?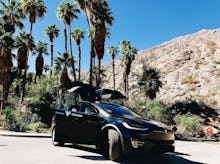 The last time I drove the 140 miles from Los Angeles to San Diego, the trip, which can take as little as two hours, was more than double that length. The pain of watching my five-hour trip tick longer, minute by minute, left me with a big travel scar.
Previously, I've taken the Amtrak, which takes about three hours and costs $35 to $60 — but getting to Union Station downtown takes at least 40 minutes for me, depending on notorious Los Angeles traffic. A nonstop flight takes about an hour, but I'm not the biggest fan of airport traffic and going through security. So when I came across Tesloop while planning a recent trip, I took the bait and clicked.
Tesloop is a ride-share, kind of like Uber Pool or Lyft Line. It uses only Teslas, with a few fixed pick-up and drop-off locations. "It's a Tesla bus!" said my friend, which is probably a more accurate description. There's no connection to Elon Musk or Tesla or the Hyperloop — but it does seem to be piggybacking on the presumed association, which doesn't hurt the nascent small business.
It's the 2015 brainchild of then 16-year-old Haydn Sonnad, who wanted a Tesla and figured that driving people from L.A. to Las Vegas once a week would pay for the lease and insurance. He was too young to get the insurance for driving professionally, but he turned it into a company with his entrepreneur father Rahul, as CEO. Tesloop provides rides to and from L.A. and Orange County, Palm Springs and San Diego — all distances that can be completed on a single charge.
Including a 20% first-timer discount, it cost $55.20 for the one-way Wednesday trip I booked the day before. According to the website, "Prices around major holidays or events (Thanksgiving, Christmas, etc.) will be premium-priced so we can give our pilots a bump in pay."
The first issue I ran into: the departure times from San Diego to L.A. were less than ideal. I refreshed my screen and tried several times over several days, thinking there was a mistake.
Leaving around 5 a.m. makes sense, but a 6 a.m. departure puts you into rush hour in Orange County and L.A. The next trips — at 3:30 p.m. or 5:49 p.m. — almost guarantee a four-hour drive. Everything sold out while I was deliberating and I was stuck leaving at 5:49 p.m. with an estimated arrival quoted at 8:35 p.m. to 9:45 p.m.
At 5:04 p.m. I got a text from Mark, who introduced himself as the "concierge" for my trip.
Because of problems, he wrote, he was offering a Lyft on Tesloop's tab to a Tesla charging station 15 miles away. My two fellow passengers, Bob Dameron, 59, an engineer headed to LAX for a midnight flight to China and Maura Ebel, a 23-year-old farmer visiting from upstate New York, were as confused as I was. It was the first Tesloop for all of us and we weren't off to a great start.
Tesloop calls its drivers "pilots," and 30 minutes later, we met ours, Larry, in a strip mall parking lot across from the charging station. Our chariot was the Model X SUV covered in branding copy; we took photos of the Falcon Wing doors.
The car was impeccably clean and came with WiFi and a cooler full of protein bars and nuts, and waters ranging from sparkling to coconut. After several minutes, Mark Skyped in to welcome us and do a quick orientation. Larry kept his hands on the wheel, but the car was basically on autopilot most of the time, except when changing lanes or exiting the freeway. "I'm just a fail-safe," he said, although Teslas don't like it when you take your hands off the wheels for more than a minute. When he dialed in Mark, Maura asked, "Is that illegal?" and even though he wasn't driving, it technically was.
My fellow passengers and I had a good camaraderie so we communally waived some rules. Typically phone calls are limited to three minutes, but the others signed off on me calling my insurance company. Citing the delayed start, Bob asked to be driven straight to his terminal, rather than at the designated drop off location which was at another terminal.
For me, this is where it all fell apart. Between the extra airport traffic and the fact that I'd also have to take a Lyft from my drop-off point, I calculated that I was going to be much, much later than I originally expected.
When I asked to customize my drop-off, I was told the car wouldn't have enough charge, which is fair. Instead, Tesloop offered to cover the Lyft to my final destination. Judging from my time-stamped texts with the concierge, the extra distance of dropping Bob off at his terminal added 10 to 20 minutes to my ride.
One big issue with the Tesloop: the idea is clever, but it doesn't always pan out in the real world. Drivers, be it with Uber or Tesloop, aren't necessarily familiar with an area and wouldn't know the best route to LAX or across town during high traffic the way a local would.
Then there was the reason we were delayed earlier: According to Larry, there was there was a long line at the charging station, hence the Lyft to meet him there. Tesloop only has two vehicles that service the San Diego route, and hadn't built in enough of a cushion. As for those departure times that plunged straight into rush hour, they seem more focused on ensuring the cars run in a "loop" than convenience or efficiency.
For $55.20, I spent three hours split between two Lyfts and the Tesloop with strangers, plus the Lyft I took on my own to the pick-up location. The Lyft app is currently pricing the entire trip at the same time at $180 to $200. If I could find three or four people to join me and split the cost, the price is essentially the same and we could depart at whatever time we wanted, going door to door, without ever switching cars.
Despite the many issues, I'd take the Tesloop again. It was a relatively cheap way to avoid driving myself and getting a few other things done since my hands were free. I'm used to Teslas and like the autopilot features — they're good at avoiding potential objects and crashes and provide a check against a driver who is distracted or sleepy. Both my concierges and Larry were exceedingly polite and well-meaning, and made an effort to make up for our delays. Plus, there was free coconut water.