How much child care costs in 2017 — plus the most and least affordable US states for having kids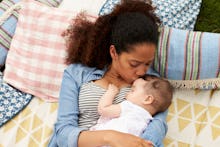 Children may be priceless, but the price you'll pay to have them is really, really high. Overall, the first year of a baby's life costs about four times what most parents expect — roughly $21,000 to $52,000 — and the cost of raising a child to age 18 is only rising. (Currently more than $230,000 for a typical family.)
Why is this? Alas, one of the biggest specific expenses parents face is child care. The national average annual cost of care ranges from $10,468 for a center-based child care program to $28,905 for a nanny, according to Care.com's new Cost of Care Survey: The child, senior and home care site solicited responses from more than 1,000 United States parents in May 2017, and included 2016 member cost data in its report.
In the survey, 1 in 3 respondents said they spent at least 20% of their annual household income on child care. And while 81% of respondents said their current care plan is worth what they're paying, child care is still causing all sorts of stress for families, including tension in relationships between parents.
The news isn't all bad, though. "More and more families are increasingly recognizing the need to budget because the high costs of child care have been consuming the national narrative for some time now, and this has created more informed and prepared families," Robyn Wentzel-Freeman, a data analyst at Care.com, said to Mic via email.
Still, 53% of families say that American culture isn't doing enough to support working parents — and almost half of all parents wish the U.S. provided subsidies for care costs, as many other countries do.
Child care costs HOW much?
Throughout the United States, 30% of parents said they spend $25,000 or more per year on each child. This includes everything from clothes and extracurricular activities to child care. While that is a huge chunk out of a household's budget, parents have little choice but to pay big bills because there are few cheap options.
Here's how the weekly costs of child care break down depending on the type of care parents choose:
Of course, there are also regional differences, so parents in some states can expect to pay much more, while others will get a bargain, at least relative to their income. As the chart below shows, New Hampshire is the cheapest state for a nanny, while North Dakota offers the best deals on child care centers.
Parents are willing to go into debt for care
While child care alone can be nearly as expensive as a new car, most parents report they are willing to cover the costs — and some are even willing to go into debt. 32% of families indicated they'd either go into debt or further into debt to cover child care expenses: This is a (perhaps worrisome) increase from when just one-fourth of families said they'd go into debt for care costs in 2016.
For many, extras are worth paying for as well. 72% of parents said they are willing to pay a premium if their nanny or au pair has a degree in early education, and 58% would pay a premium for a nanny or au pair with any kind of college degree.
More than half of parents were also willing to kick in extra cash to pay for a nanny or au pair who was certified in CPR or first-aid, who had organic cooking skills or who could teach their child another language.
Among parents who rely on child care centers, 77% said they would pay more for a lower ratio of students to teachers and 70% said they'd kick in extra for variety in classes. Other bonuses parents were willing to spring for included a video camera to watch kids at school, pickup and delivery of children, better technology facilitating communication, and organic food at daycare.
But they still struggle with costs
Ponying up extra dough for your kids to get the best care comes at a cost that goes beyond the financial. Four in 10 respondents to the Care.com survey said the cost of child care was creating tension in their relationship. Part of this tension could come from the fact that parents are blowing their budgets on their kids. Almost 70% were going over budget by at least $100 monthly.
It's not just relationships between partners that are being affected either: 20% of people have fewer kids than they want because care is too expensive and 17% said they delayed starting their families for this reason.
Careers are also being affected, too, with 63% of parents indicating their child care costs impacted decisions about their work life and with 73% saying their job was impacted due to care plans not working out at the last minute.
Parents really want help
Most parents want way more help than they're getting. "With nearly one in three families saying they would go into debt or further just to pay for child care, families are coming forward and discussing this financial pain point more than ever, and more importantly, how America can help," Care.com data analyst Wentzel-Freeman said to Mic.
Parents want help from their employers, with 85% in the survey indicating they wish their employer provided discount child care, emergency child care as a backup or other benefits to help get kids cared for.
Parents also want a lot more help from the government than they're getting. While parents can contribute to a flexible spending account to cover the costs of dependent care, 68% of parents surveyed said that this tax-advantaged perk doesn't make a meaningful impact on what they're paying to care for their kids — and around one-third of parents aren't even aware of this option for reducing costs. Plus, even though tax benefits can bring big savings to eligible families, around half of all parents said they wish more was being done by the government, including direct subsidies for child care.
What can parents do to stress less about big child care expenses?
Since it's definitely not a given that the government will provide more relief any time soon, parents have to take things into their own hands to make sure care is affordable. The good news is, a lot of parents are doing that.
"Parents are beginning to prepare for child care costs by establishing a budget before the baby arrives," Wentzel-Freeman said. "They're doing the research, whether that be looking online or asking friends and family, by determining a budget before exploring child care options, figuring out where they are currently spending money and finding where they can cut costs, like daily coffee, restaurants and vacations."
Close to three-fourths of all families are now making a budget plan to pay for care, up from 58% of parents who made a budget in 2014.
Parents should also see whether they're eligible for government or employer subsidies, consider sharing a nanny with friends and neighbors, and do the math on whether a stay-at-home parent makes sense — among other ways to save on care. While a baby is never going to be cheap, your kids are priceless.
Sign up for The Payoff— your weekly crash course on how to live your best financial life. Additionally, for all your burning money questions, check out Mic's credit, savings, career, and investing hubs for more information — that pays off.