'Destiny 2' Hawthorne: Why the mysterious new character probably isn't the Exo-Stranger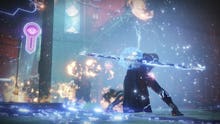 One character in the Destiny 2 lore has so far made waves because of her assumed connection to the first game. Hawthorne is a character first introduced on GameStop's product page for Destiny 2 Collector's Edition.
Fans were speculating — because that's what fans do — this Hawthorne character in Destiny 2 might be the Exo-Stranger from the original Destiny game. However, it looks like that isn't the case.
Here's what you need to know about Hawthorne and Destiny 2.
Destiny 2: Is Hawthorne the Exo-Stranger?
For those who don't know, the Exo-Stranger was a notably mysterious non-playable character in Destiny. Her entry in the Destinypedia gives us a little context:
The Stranger appears to be working for an unknown faction who know more about the war against the Darkness than Guardians do. She possesses much technology that even Ghosts don't fully understand; she is capable of appearing and disappearing out of reality, and her weapon has parts that 'shouldn't yet exist.'
If you were hoping to see more of the Exo-Stranger in Destiny 2, we've got some bad news. According to Forbes, Bungie has apparently written her out of the new game.
As for Hawthorne, there isn't much to report. According to Shacknews, she's a non-playable character in the game you may run into at the Farm, a new social space in Destiny 2 that replaces the Tower from the original game.
It's possible we'll learn more about Hawthorne once Destiny 2 officially launches in September. Stay tuned.
More gaming news and updates
Check out the latest from Mic, like this deep dive into the cultural origins of Gamergate. Also, be sure to read this essay about what it's like to cosplay while black, a roundup of family-friendly games to play with your kids and our interview with Adi Shankar, producer of the animated Castlevania Netflix series.