What to know about O.J. Simpson's parole hearing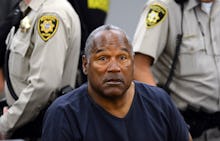 After nine years in prison, O.J. Simpson may soon be a free man.
The former football star, whose 1995 murder trial became an enduring source of public fascination, will take the stand once again on Wednesday for a parole hearing. Simpson, now 70 years old, is eligible for parole after serving nine years of his 9- to 33-year sentence, which was granted in 2008.
Here's what to know about the major — and likely very brief — hearing.
Why is O.J. Simpson in jail?
Though Simpson gained notoriety following the murders of wife Nicole Brown Simpson and Ron Goldman — for which he was ultimately acquitted — his jail time is completely unrelated to the high-profile murder case.
Simpson is in jail following an armed robbery in September 2007, in which he and several other men entered a Las Vegas hotel room and attempted to steal Simpson-related memorabilia — which Simpson claimed had originally belonged to him — along with other items. Simpson was convicted in October 2008 on one count of burglary with use of a deadly weapon, three counts of conspiracy and two counts each of kidnapping, robbery, assault and coercion, all with use of a deadly weapon, according to ESPN.
Simpson was already granted parole for several of the charges during a 2013 hearing, the New York Daily News reported, including the charge of armed robbery. Wednesday's hearing will cover the remaining charges.
According to the New York Post, one of the men whom Simpson robbed, Bruce Fromong, is in favor of the former football star's release. The other, Al Beardsley, has since passed away, though a relative told the Post that Beardsley would have even "picked [Simpson] up at jail."
The hearing
The Nevada Board of Parole Commissioners will meet Wednesday to determine Simpson's fate, with Simpson — known as Prisoner No. 1027820 — set to answer questions via video conference from Lovelock Correctional Center.
Unlike the drawn-out court proceedings over Simpson's 1995 charges, Wednesday's hearing, which begins at 1 p.m. Eastern, is expected to be brief. The 2013 hearing took just 15 minutes, USA Today noted, and though it usually takes weeks for a decision in these instances, given the high profile of Simpson's case, a decision will be made right away.
"The media interest in this one case is a disruption to our operation,'' the parole board said in a statement, as quoted by the Washington Post. "A decision is being made at the time of the hearing so that the board's operation can return to normal as soon as possible after the hearing.''
Simpson's parole decision will be solely based on his behavior while in prison, the Daily News reported. Those close to Simpson claim that should make the decision an easy one, as he has reportedly been a "model prisoner."
"It's based on his behavior in prison and that certainly hasn't changed," Simpson's ex-lawyer Yale Galanter told the Daily News. "He's been a model inmate. He's had no write-ups, no disciplinary issues. By all accounts, he's totally abided by the rules."
Should Simpson be granted parole, he will be officially released from prison Oct. 1, the Daily News noted — and Simpson is reportedly ready for his release.
"[Simpson] just says, 'We'll be together again, my life will go back to normal,'" Simpson's friend Tom Scotto told the Washington Post about a recent conversation with Simpson.
"He's very positive. He's always been positive."