Guillermo del Toro's 'The Shape of Water' looks like 'Okja' with fish-people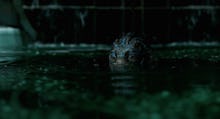 Pan's Labyrinth, Guillermo del Toro's last creepy monster movie, terrified audiences. But his newest monster flick will only give you chills of the feel-good variety.
A trailer for Toro's upcoming The Shape of Water follows a mute woman, played by Sally Hawkins, as she befriends a fish-human hybrid in a research lab. After bonding with the monster — who is supposedly a deity in his native Amazon — she signs to the movie's narrator, "When he looks at me, he doesn't know how I am incomplete. He sees me as I am."
Of course, because no animal hybrids in 2017 can live in peace (see: Okja), a government official played by Michael Shannon decides he needs to torture and dismember the creature to learn how it works. The movie is set during the Cold War, after all; perhaps Shannon's character thinks he can throw a wrench in the nuclear arms race by weaponizing fish-people.
Similar to Okja's story, in which a young girl attempts to rescue a super-pig from the government, Hawkins' character soon sets off on a mission to save her creature pal. Her actions mirror those of present-day activists protesting animal experimentation — and judging by the end of the trailer, it looks like things get slippery.
All of this is framed as an adult fairy tale told by Richard Jenkins — again reminiscent of the fantasy-like structure of 2006's Pan's Labyrinth.
Check out the trailer below:
Mic has ongoing movie coverage. Please follow our main movies hub here.