You can use your iPhone to control your computer and it's the coolest trick ever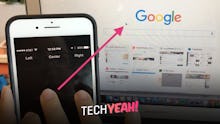 Do you have a broken mouse? Giving a PowerPoint presentation? Attempting a magic trick? Have I found the app for you! It's called Touch Mouse, and it's made by Logitech.
With Touch Mouse, you can use your smartphone's screen as a mouse. You just swipe your finger across your iPhone's screen and your cursor moves with it.
Check it out in action:
It's pretty damn cool. You can just tap your finger on the screen to click on something. Not only does your phone turn into a working mouse, it's also a tiny keyboard.
Here's me using the keyboard:
Let me say, however, that this app is in no way a good replacement for a mouse. You have to open the Touch Mouse server on your computer every time you use it and it's pretty buggy. But it's fun and it's free — so go ahead and terrify your friends with it.
Here's how to do it:
First, download the app. Then you'll need to download the server on the computer you want to use. Once you download the server, open it up on your computer and open the app on your phone.
The server looks like this:
The app will ask you to choose a server. Make sure your server is open, or your app won't connect. Your app should look like this:
Click your server's name and you should be good to go.
Your regular mouse will still work while you're using it, so you can just go back to your normal life when you're over it.
Sign up for Tech Yeah! — your biweekly digest with a helpful and hilarious tech tip for upgrading your life. Yes, there's a hack for that.