Trump's secret Putin meeting probably won't sway Mueller's collusion probe, experts say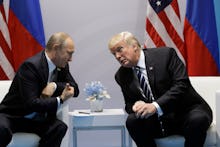 The White House on Tuesday confirmed that President Donald Trump had a previously undisclosed meeting with Russian President Vladimir Putin at the G20 summit in Hamburg, Germany — a second face-to-face between the two leaders that reportedly lasted for nearly an hour.
It was the latest shoe to drop in the ongoing Trump-Russia saga, which has intensified amid revelations that Donald Trump Jr., the president's eldest son, and other top campaign officials met with Russians they believed had dirt on Hillary Clinton.
Unlike that June 2016 meeting, Trump's secret meeting with Putin is unlikely to play much of a factor in special prosecutor Robert Mueller's investigation, experts say — no matter how "nefarious" it may look to Trump's critics.
Jeffrey Cramer, a former assistant U.S. attorney for the Northern District of Illinois and managing director at Berkeley Research Group, said in a phone interview that there's a tough distinction to be made between "political noise" and matters that could have important legal ramifications.
"I would put this under the political noise box," Cramer said, adding that the Don Jr. meeting — which also included Jared Kushner, Paul Manafort and a Russian-American lobbyist — is "an investigative thread" that is likely more important to Mueller's probe.
It was reported Tuesday that Mueller is, in fact, investigating the June 2016 meeting.
A spokesperson for the special counsel on Wednesday declined to comment to Mic on whether or not Mueller's investigation would include Trump's second meeting with Putin.
Trump and Putin at the G20 summit
The two leaders had their much-anticipated first meeting in Hamburg on July 7. In their more-than-two-hour face-to-face, Secretary of State Rex Tillerson said that Trump questioned Putin on the Kremlin's election interference — something Russian foreign minister Sergey Lavrov seemed to deny, claiming that Trump accepted Putin's denial of Russian meddling and wanted to move on.
Putin and Trump seemed to strike a rapport, with the two leaders saying it was a "delight" and an "honor" to meet with one another.
That rapport apparently carried over to dinner that night, when Trump left his seat to sit next to Putin for a nearly hourlong chat.
Trump called suggestions that there was anything "sinister" about the meeting "sick," but Ian Bremmer, president of the Eurasia Group, who first reported the secret meeting, told the New York Times that "pretty much everyone at the dinner thought this was really weird."
Weirder still was the fact that Trump relied solely on a Kremlin-provided interpreter, and that, according to the Times, there's "no official United States government record of the intimate dinner conversation, because no American official other than the president was involved."
James Steinberg, a former deputy secretary of state in the Obama administration who now teaches at Syracuse University, told Mic in an email that while "informal conversations often happen on the margins of multilateral meetings" without aides present, the reported length of the Trump-Putin meeting — and the fact that no U.S. interpreter was there — are in fact unusual.
Still, Cramer said it likely wouldn't be much of a bombshell to an investigator.
"Since we're never going to know what was said at that meeting, I'm hard pressed to think how that would be as relevant as some of the other things that we've heard lately," Cramer said. "I think the secondary meeting is just a little too tangential."
Still, the undisclosed meeting is bad optics for Trump, who has dismissed investigations into possible collusion between his campaign and Russia as the "single greatest witch hunt in American political history." On numerous occasions, Trump officials either did not disclose contacts with Russian officials, or the story of those contacts shifted.
That pattern — as well as the fact that there were apparently no notes on the undisclosed one-on-one — is likely significant. But, Cramer said, probably not as significant as some of the other threads Mueller is following.
"It certainly is something that would be on the investigator's radar," Cramer said. "I wouldn't say it's one of the top two or three."