The Black Simmer offers character customization options for non-white players where 'The Sims' fails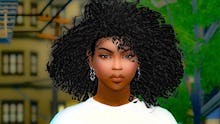 Accurate character customization options for non-white avatars is an important part of achieving better representation in games. Yet plenty of big-budget games still struggle to provide players of color with anything more than varied skin tone options and a few stereotypical hair styles.
The Sims may be one of the best-known character creation games around, but it's still fails when it comes to accurately representing non-white races — Sims publisher EA even admitted as much to Mic in an article earlier this year. Thankfully, there's another option for black gaming fans: The Black Simmer.
Better character options for creating black Sims come to the game thanks to Black Simmer
The Black Simmer is an online forum created by Amira Virgil. In a video for AJ+, she says she was tired of the limited options available in The Sims and other mainstream video games.
In the video, the Sims fan noted her frustration with the lack of options that resembled her. Not only were there no skin tone options that accurately matched her own, but there were no hairstyles that properly represented her either. And if you can't design yourself in The Sims of all games, where can you?
The Black Simmer forum was born, and the results have been some pretty great character creations. Just check out this father and daughter duo.
Or these hairstyles that go beyond the standard Sims offering.
It's not just an issue in video games
Virgil's frustration with character creation tools isn't unique or new. Plenty of others have voiced their opinion regarding the lack of proper character creators, including Questlove of The Roots. We've even seen the issue leave the realm of video games, leading teen Rayouf Alhumedhi to design emoji that better represent her experience.
The Sims still lacks proper options for black folk, and while the company is aware of the issue, it hasn't made any clear effort to offer a solution. Thankfully, people like Virgil are here to offer an alternative in the short term, but hopefully EA and the rest of the industry will catch up before too long.
Check out more gaming news and coverage
Check out more video game content on Mic, including which Pokémon are actually the best and why black players can never seem to getcustom characters that look like them. Learn more about how blind gamersare getting in on the fun and that Injustice 2 appears to be nerfing its female characters. See why we love Twintelle (and why we hate Twintelle) in the upcoming Arms, and don't miss our guide to dodging blue shells in the Mario Kart 8 Deluxe — you can thank us later.