OJ Simpson granted parole after 9 years in prison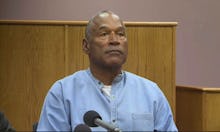 O.J. Simpson was granted parole in a unanimous vote on Thursday after serving nine years in prison for a 2007 armed robbery.
Simpson had been serving time at the Lovelock Correctional Facility in Lovelock, Nevada, a medium-security prison 90 miles northeast of Reno, and appeared via video conferenced in the Carson City, Nevada, office of the Nevada Board of Parole Commissioners where his parole was granted.
Though Simpson's most notorious brush with the law came in 1995, when he famously stood trial for the murders of his wife Nicole Brown Simpson and Ron Goldman, Thursday's hearing was in connection to a September 2007 armed robbery incident, during which Simpson and several other men stormed a Las Vegas hotel room in an attempt to obtain Simpson-related memorabilia which they claimed had been stolen.
One of the male accomplices to that robbery had been carrying a gun at the time of the incident, and Simpson was eventually charged with 12 counts, including three counts of conspiracy; one count of burglary with use of a deadly weapon; and two counts each of kidnapping, robbery, assault and coercion with a deadly weapon, according to ESPN.
Though the hearing began on a lighter tone when Connie Bisbee, Nevada Board of Parole commissioner, accidentally stated that Simpson recently turned 90 years old, things became more heated when Tony Corda, another member of the Nevada Board of Parole, asked Simpson to explain what was going through his mind on the night of Sept. 13, 2007, when he and group of men committed armed robbery at a Las Vegas hotel.
When it came time for him to discuss the armed robbery charges, Simpson seemed to think he didn't do anything wrong.
"Nobody's ever accused me of pulling no weapon on them," Simpson said.
Later in the hearing, Simpson described himself as a "straight shooter" who "basically lived a conflict-free life."
A member of the Nevada Board of Parole assured Simpson that his 1995 acquittal of the murders of Nicole Brown Simpson and Ronald Goldman did not factor into their Thursday decision.
Arnelle, Simpson's oldest daughter, gave an emotional defense of the "true character of [her] father" before the board.
"No one really knows how much we've been through," she said, choking back tears. "My experience with him is that he's like my best friend and my rock. As a family, we recognize that he is not the perfect man ... but he has done his best."
On that day in September 2007, Simpson's decisions "were clearly wrong ... his intentions were not to go in and just make the wrong decision at the wrong time," his eldest daughter explained. "We just want him to come home so we can move forward for us. Quietly."
Bruce Fromong, one of the victims of the 2007 armed robbery, also testified before the Nevada Board of Parole in favor of Simpson's release.
Simpson had tears in his eyes as all four commissioners voted in favor of his parole.
Simpson is eligible for release beginning Oct. 1, 2017, but authorities will decide the exact time and date of his release on a separate occasion.