3 takeaways from Jon Huntsman's nomination as ambassador to Russia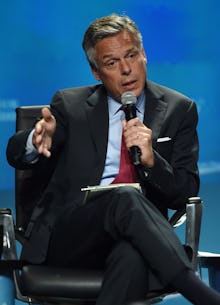 Jon Huntsman — former Utah governor and presidential candidate, two-time ambassador, dude who "gave away our country to China" — was announced Tuesday as President Donald Trump's nominee to be ambassador to Russia.
Here's what to know about Huntsman's appointment — and what to watch for going forward.
He's an experienced pick ...
Huntsman reportedly accepted the post back in March, but was not formally nominated for the role until now because the United States was waiting on the Kremlin to approve of his ambassadorship. The Washington Post reported that Huntsman was approved by Moscow around the same time the U.S. approved Russian politician Anatoly Antonov as Russia's ambassador in Washington.
Huntsman is an experienced diplomat.
Currently chairman of the Atlantic Council, a foreign policy think tank, the moderate Republican served as ambassador to Singapore under George H.W. Bush and as ambassador to China under Barack Obama.
... but not necessarily on Russian matters
Huntsman is regarded as an expert on China, but has "no special expertise" in Russia, according to the New York Times.
Though he has business interests in Russia via the Huntsman Corporation, Ford and Caterpillar, he is regarded as inexperienced in the country.
Huntsman — who speaks Mandarin — reportedly does not speak any Russian and has made few public comments on matters relating to Russia. That could make him a potential liability as he heads up the U.S. embassy in the country.
Kremlin's election meddling a dark cloud over Huntsman
Russia's interference in the 2016 U.S. election — and the possibility of collusion with the Trump campaign — will loom large and dark over Huntsman's confirmation hearing and his potential ambassadorship.
He'll face questions on his views of the Kremlin and Russian meddling during his hearing, and — if confirmed — will take over the prominent post from ambassador John Tefft as investigations into Trump's ties to Russia ramp up.
Trump, who has a fraught relationship with the moderate Republican, has dismissed the probes as part of a "witch hunt" and has called for closer ties to Russia — a seismic shift in U.S. policy toward the country and its strongman leader, Vladimir Putin.
Huntsman, on the other hand, "has no love for authoritarianism" and "isn't afraid to show it," Politico wrote of his time as ambassador to China.
"Huntsman will carry out the president's policy in Moscow, as he did in Beijing," Orville Schell, director of the Center on U.S.-China Relations at the Asia Society, told the publication. "But I think he's also sort of incapable of not expressing his own views and sentiments."
But he's also facing a bear of a task: representing the U.S. in Russia amid high tensions between the two countries, and without much of a road map from the White House.
"It's an impossible job," Max Bergmann, a senior fellow on U.S.-Russian policy at the left-leaning Center for American Progress and former John Kerry adviser, told the Salt Lake Tribune in March. "In the case of Russia, there is no unified direction in terms of policy where we have the State Department, the Defense Department in one place, you can count Nikki Haley as U.N. ambassador in there ... Then we have the president who is clearly in a different space of where the relationship in Russia should be."
"It's not a job that — while I commend him for stepping up to the challenge — it's not a job that I think he's probably going to be able to exercise effectively," Bergmann said.