Let's needlessly overthink these 'Game of Thrones' photos from "Stormborn"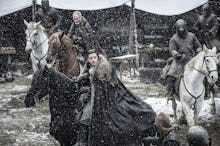 It's another week of insatiable anticipation for the next episode of Game of Thrones after a longer-than-usual hiatus between seasons left fans reeling in the spring. But thank the Old Gods and the New (and I guess the Lord of Light), because HBO has blessed us by releasing six photos from season seven's second episode, "Stormborn," airing Sunday night.
As per usual, HBO isn't about to spill revelatory plot details through these photos — they're more guarded about Thrones than our current president is about nuclear codes.
Still, let's glean through these photos and see if we can find anything good.
Arya's on the move
After wiping out House Frey and sitting through an Ed Sheeran concert in the woods, Arya's heading south to King's Landing to, in her words, "kill the queen." This looks like another pitstop on her journey, but here's a moonshot: What if she's in the same village as her old buddy Hot Pie?
She'd like one, um, wolf bread thing for the road, please.
Jon Snow and Littlefinger have a chat
It looks like Jon Snow and Littlefinger are talking in the Winterfell crypt, which has previously been the setting for discussions about Lyanna Stark — whom we found out last season was Jon's real mother. Littlefinger's got a wealth of knowledge, so is it possible he knows about Jon's true parentage? If so, would he tell him?
It's entirely possible — dude does love his chaos, after all.
Sam's life sucks
Sam's poop internship at the Citadel in the season seven premiere might've led to the single funniest scene in Thrones history, with the Edgar Wright-esque frenetic pacing of his janitorial duties leading to a lovely mishmash of food and fecal matter.
Will Sam's life get any better in episode two? Well, at least he's carrying books instead of bedpans.
Is Jon leaving Winterfell?
We know from the episode two preview that Jon either received Sam's raven about Dragonstone or his secret Targaryen lineage was revealed (the line from the scene in question: "A Targaryen cannot be trusted"). Either way, it looks like Jon's leaving Winterfell — at least temporarily.
My money's on Jon heading to Dragonstone, where Daenerys Targaryen just settled down, to form some type of alliance. What's more: Will they know they're actually related?
Dany's planning
Now that Dany's finally arrived in Westeros, the planning begins. It's a good thing she has a fancy table that doubles as a Westerosi map to help her out with that!
I just hope she doesn't find out about the, um, unsanitary history of this table between Stannis Baratheon and Melisandre. Hint: It's the moment that created a creepy smoke baby.
Is Sansa in charge of Winterfell now?
Assuming Jon is leaving Winterfell — which, regardless of the reason, he's on a horse — Sansa would presumably be in charge. Of course, Littlefinger is presumably sticking around and could try to push her further away from Jon and his Stark idealism.
Is it Sunday yet?
The seventh season of Game of Thrones airs Sundays at 9 p.m. Eastern time on HBO.
Mic has ongoing coverage of Game of Thrones. Please follow our main Game of Thrones hub here.