Kris Kobach says "we may never know" if Hillary Clinton won the popular vote. (We do; she did.)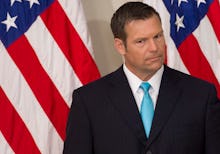 Kansas Secretary of State Kris Kobach tried to sow doubt in the results of the 2016 presidential election on live television Wednesday afternoon, saying that "we may never know" whether Hillary Clinton won the popular vote.
Clinton did win the popular vote by nearly 3 million ballots, and there exists no evidence to suggest otherwise. Yet Kobach — who is vice-chairing the White House's "voter fraud panel" under Vice President Mike Pence — told MSNBC's Katy Tur that the popular vote total is in doubt.
President Donald Trump has voiced the same doubts, claiming with no evidence at all that 3 to 5 million people voted illegally in the election.
Kobach's comments came the same day that the panel he's leading met for the first time.
During the first meeting, Pence assured the public that the panel had "no preconceived notions" about whether there was widespread voter fraud in the election. However Kobach's comments to MSNBC, and his follow up to Mic's Celeste Katz, belie that point.
"Even if we got the data of 'this is the exact number of ineligible voters who voted,' you still wouldn't know what the tally is unless you interviewed every one of those voters under oath and found out who they voted for," Kobach told Mic outside the meeting. "So we'll never know that."
The panel Kobach is helping to lead has drawn widespread criticism, with opponents saying it's an attempt to disenfranchise voters.
Celeste Katz contributed additional reporting from Washington, D.C.