'NBA 2K18' Player Ratings: Devin Booker's breakout season leads to a three-point jump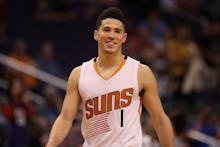 Some of NBA's top players have had their NBA 2K18 ratings revealed, and Phoenix Suns sharpshooter Devin Booker is among them.
Booker will be rated an 86 in the upcoming game. You can see Booker and other NBA stars react to their ratings in the video at the bottom of this article.
NBA 2K18 player ratings: What to expect for Devin Booker
In the final official ratings update for NBA 2K17, Booker was rated an 83. The three-point boost was in recognition for a dynamic season that saw the soon-to-be 21-year-old average 22.1 points per game. Booker also scored an NBA season-high 70 points in a single game during the 2016-17 campaign.
It wouldn't be a surprise to see Booker's rating continue to rise during the season. Because he's so young, his best days should be ahead of him.
As for NBA 2K18, the hype is just beginning. The game drops Sept. 15 for fans who pre-order.
Expect a steady supply of information leading up to the release.
More sports gaming news and updates
Love sports games? Check out more content from Mic, including tips for leveling up your NBA 2K17 MyPlayer, playing quarterback in Madden 17, our review of MLB The Show 17 and the classic Nintendo sports games we want to see on the Switch.