Breakfast, lunch and dinner: The three best meals to eat in Portland, Maine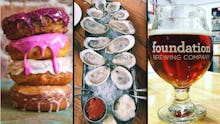 Deciding where to eat can be a daunting task. In our BLD (Breakfast, Lunch and Dinner) series, we handpick three must-visit restaurants in one city. Consider this your guide to the perfect day of eating.
Portland's food scene is reason enough to plan a visit to the salty New England coastal city. This side of town is best known for its killer seafood, but beyond the lobster roll, there's tons you'll want to taste. Think sweet potato donuts, fries cooked in duck fat and cherry-aged beer.
It's tough to make a bad pick in "Vacationland," but to make things simpler, we've selected three incredibly good restaurants for breakfast, lunch and dinner. We also snuck in a few snacking options, because we couldn't help ourselves. Enjoy!
This morning meal will give you a sense of Portland's grittier vibe. The cafe is a frills-free, non-tourist trap attached to a pottery studio.
Choose from the black bear burrito, the tofu scramble or the lobster roll — because in Portland it's okay to eat lobster rolls for breakfast — and get your fill of coffee in a handmade ceramic mug. Don't leave without snagging something from the pastry case, whether it's a piece of salted caramel chocolate cake, a maple buttercream cupcake or a coconut creme cannoli.
Pitstop: Donuts
Whether you're Team Classic Donut or Team Hipster Donut, Portland generously satisfies both types of cravings. Check out Holy Donut (Portland has two locations) for heavenly potato-based pastries in flavors like dark chocolate sea salt, vegan fresh berry glazed, maple bacon and even sweet potato-based offerings.
If you involuntarily eye-roll at the idea of potato-based donuts, head to Tony's Donut Shop, which has no working website or Instagram account. This brick and mortar is an old-school institution that's mastered the classics (the ordinary glazed is anything but), but still has a few tricks up its sleeve, like irresistible whoopie pies or impossible to ignore "Bavarian boats."
Pro tip: Go the Holy Donut location on Park Ave, where you'll be just a four-minute drive from Tony's and have yourself a taste test. No one said you couldn't play for both teams.
You could eat here for dinner, but you'll have to wait for a seat at the popular, no-reservations sandwich shop. Decrease your chances of standing in line by opting for an oddly timed lunch. Don't bother considering — you're definitely ordering the fries: The hand-cut Belgian style Maine potatoes are fried in duck fat and are the restaurant's namesake. Instead, agonize over whether to get the garlic, curry, horseradish or Thai chili mayos for dipping. Here with a hungry group? Include poutine in your order as well.
For your main meal, you can't go wrong with Duckfat's fresh bread paninis: Try the overnight duck confit, which comes with napa cabbage slaw, miso mayo and cilantro, or the Caprese, dressed with a succulent basil pesto mayo.
If you took a morning donut tour, you might as well also get the infamous donut holes, which are fried in duck fat, sprinkled in cinnamon sugar and served with duck fat caramel dipping sauce.
Take a seat in the tasting room and order a flight so you can try several of the Rising Tide's handcrafted, small-batch brews. The menu includes three year-round ales alongside seasonal offerings and limited releases like Cordial, a tart and earthy Belgian-style ale that's fermented for a year in the oak barrels, then aged on Montmorency cherries for eight weeks. The staff is welcoming and expert, so don't be shy in asking for recommendations.
A bonus here that's either dangerous or convenient depending on your after-brewery-plans: Rising Tide hosts a rotation of food trucks in the lot in front of its tasting room. Check the website to see what kind of food will be served on the day of your visit.
You think you know a good lobster roll, but then you go to Eventide. The brown butter lobster roll here is trademarked, so it's an obvious pick.
This lobster roll is special for multiple reasons, but most outstanding is its steamed bun: The fluffy texture almost feels like a dense cloud in your mouth. The bun is the perfect complement to the high quality lobster meat, which is prepared with a salty brown butter vinaigrette. Its only flaw is the smaller size, as you'll want to order another before you finish the first.
Beyond this menu MVP, there's a nice selection of oyster bar fare at Eventide, including local crudos and ceviches. If you're dining with a crew, consider ordering the New England clam bake, which consists of clams, mussels, lobster, potatoes, salt pork and a hardboiled egg nestled into a bed of rockweed and steamed in a bamboo basket. Wash it down with special shooters and cocktails (try the dirty dirty martini that's made with oyster brine and hot sauce) or draft beers brewed in Maine.
Reservations at the James Beard Award-winning spot can only be made for groups of six or more, so if you're coming with a smaller party, plan to wait or opt to eat in the standing room.