Everyone has an opinion on "booth babes" — but here's what they actually have to say about the job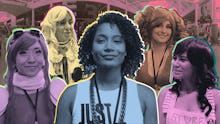 It wasn't easy finding promotional models — or "booth babes," as they're better known — at 2017's Electronic Entertainment Expo in Los Angeles. For more than a decade, half-naked women in costume were a familiar sight at the most high-profile annual video game event, but lately, they've become less popular. Driven by concerns over harassment and the appropriation of geek culture, the press and the community have pushed for an end to the industry practice.
But the models are still here — and they want you to know they're not the helpless victims or the talentless interlopers people say they are.
At this year's E3, many booth models weren't dressed provocatively. Promotional modeling — and the models themselves — have faced a high level of scrutiny that resulted in more conservative rules about what models can wear. In 2010, PAX enacted strict guidelines, outlawing "partial nudity" from those doing booth work and requiring models to be "educated about the product." That policy is still in place today. E3 imposed a similar ban in 2006, only to loosen regulation three years later.
More and more, booth modeling seems like an obsolete relic from a less enlightened era of gaming, and I came to E3 to find out why companies still rely on it. But the seven current and former promotional models I spoke with made it clear that there's more to the booth babe than meets the eye.
Elaine Low, a former booth hostess who currently works as a producer and reporter, was quick to call out the line of thinking of those who take issue with her job. "It's easy to project your concerns onto a person in front of you when you're at an E3 booth," she said over coffee in downtown L.A. "Do you feel the same level of discomfort when you see a model in a Victoria's Secret ad? … We live in a culture where we invite women to commodify themselves, and then we shame them for it."
"A pox on our culture"
Some claim that booth models overshadow the games themselves — like this 2012 CNN blog that described "'hot chicks' wearing skimpy outfits simply to get a bunch of gawking geeks' heads to turn, just to satisfy their hollow egos."
"They're poachers. They're a pox on our culture," blogger Joe Peacock wrote.
Game Developers Conference founder Chris Crawford also commented on the rise of the booth model. After being pushed out of his leadership position, he returned several years later to find the show had embraced promotional models and a "purely commercial atmosphere. … What have they done to my conference?"
No wonder, then, that conventions can be a hostile place. While models at booths are blamed for invading geek culture, many men who resent them for their presence at events like E3 and Comic-Con also feel entitled to gawk at them — or worse.
"Being subject to lewd come-ons and the occasional groping isn't an ego boost, it's offensive," Low wrote for Jezebel in 2012.
Game developer Brenda Romero may have put it best while speaking at a panel in 2013 as part of the Game Developers Conference, when she argued that having promotional models at events creates a "sexually charged atmosphere," adding that she couldn't even take her daughter to E3. "I want her to feel safe there and not gazed upon," she said.
While modeling, Low would get questions like "'Why are you here?' or 'What's the purpose of you being here? You don't know anything about games,'" she said. "I've even seen outlets quiz booth hostesses with questions like 'What Ayn Rand book is BioShock based on?' in an effort to make them look stupid."
"I've even seen outlets quiz booth hostesses with questions like 'What Ayn Rand book is BioShock based on?' in an effort to make them look stupid."
But most agreed that harassment is way less of an issue than before
The majority of models we spoke with said harassment is far less of an issue than people think — and in the last 10 years, it's improved drastically.
"It's gotten so much better in the last decade," said professional cosplayer Stella Chuu, who was dressed in full costume at Nyko's E3 booth. "It used to be the dark ages, where you never knew if there was going to be someone who would treat you badly at a convention. But nowadays, everyone is super-respectful."
Working with Chuu at the Nyko booth was Byndo Gehk, who mentioned how the Cosplay Is Not Consent movement has been pivotal in reducing harassment at trade shows like E3. "People are becoming more aware of what cosplay is," she said.
Another model, promoting Ubisoft's Just Dance at E3 2017, was Alysha Young. "I've never been disrespected. I've been stared at, but no one's ever touched me. I think that's where you draw the line," she told me.
"Do guys get handsy? Yes," said Jennifer Lyons, a former booth model who's also appeared in movies and currently models outside of events like E3. "You get less than you would think. In my experience, I find that guys, when you're right up in their face, are quite shy."
Low echoed Young's sentiments: "I encountered very few people who were really rude or hostile at E3. It's mostly on the internet, which is where a lot of trash talk happens. It's all part of the spectacle of E3."
The real problem? Everyone placing blame on the booth models.
"Ironically, the people that I've found to be the worst are the employers," said Lyons. "I've had a few times where people that I worked for really talked down to me."
Low pointed to a more industrywide problem — how women are represented in the games themselves. "Lots of costumed booth hostesses simply dress up as the characters they represent," she pointed out. "Why are game designers creating them that way in the first place?"
"I've never been disrespected. I've been stared at, but no one's ever touched me. I think that's where you draw the line."
Blaming booth models is "punishing the wrong parties," said Liz Rita, a quality assurance tester for Xseed Games who was also promoting the company at E3.
Alyssa Whitley, who works in public relations for Xseed, agreed. "Why are you banning the volunteers, the models and the workers," she asked, referring to PAX's decision to ban booth models, "and not having more discussions about how you're treating [them] — and the behavior of people attending?"
Why companies still use booth models
Talking to several of the companies employing booth models at E3, many were reluctant to define the employees in that way.
"Xseed doesn't hire booth models and doesn't ask that their employees assume the role, though the opportunity is there should team members want to cosplay," a spokesperson for the developer said in an email.
Nyko's Director of Sales and Marketing, Chris Arbogast, noted that the company makes sure to hire staff for E3 who are interested in the product they're promoting.
"We wanted to hire staff that are gamers themselves and have a genuine passion for the industry," he said in an email.
A representative for Ubisoft, the makers of Just Dance, noted the company's promoters don't fit the traditional promotional booth model mold.
"The dancers are embedded members of our team and contribute to the success of the game year over year," they said in an email.
Don't assume that models are helpless victims
A recurring theme among the booth models we spoke to could be summed up in five words: Give us a little credit.
"I personally don't think professional models, booth babes, whatever you want to call them, deserve that bad rap," Rita said. "Clearly, if they're volunteering for that sort of industry, they don't know nothing."
"I'm not an advocate of booth hostess work and I'm not saying we should have more booth babes," Low said. "I'm just saying that it's not this horrible, exploitative air-headed gig that a lot of people seem to think it is."
Chuu, at the Nyko booth, noted her costume was more personal than most booth models' ensembles.
"I designed these costumes," she said. "I made these. They didn't tell me what to do. Just because something is scantily clad doesn't mean it's bad. We love it. Also, I would sweat my balls off in the ball pit if I wore anything more right now. Wearing this makes me feel comfortable, makes me feel confident and if anyone comments negatively about that I just give them some attitude."
Booth modeling, for better or worse, can be a stepping stone for women interested in the industry
Interestingly, the practice of hiring booth models has helped to create a community of women in gaming, a notably tough industry for women to break into.
"Some of my biggest supporters are females," Chuu said. "Because they're all about body positivity and being able to put yourself out there to be as expressive as you want."
A recurring theme among the booth models we spoke to could be summed up in five words: Give us a little credit.
However, Young noted that the path from booth model to full-time employee can be complicated.
"I think it's a problem if a woman has to be a booth babe to work up her way in the gaming industry, if she wants to be a gamer," Young said. "I don't think that that's fair."
What our "booth babes" obsession says about us
Low has more reason than most to complain about the practice of hiring booth models. She was part of the infamous Nintendo 3DS promotion at E3 2010, where the company used cables to literally tether its newest handheld console to models — a choice that wasn't well received by the media. However, Low said she was unaware of the backlash and didn't take any issue with that particular job.
"I remember I was in a black blazer, wearing either leggings or pants. So that was actually one of the ones I was most dressed for," she said, laughing.
As we chatted, removed from E3's busy show floor, Low broke down exactly what's wrong with the "booth babe" backlash, and what it really says about our culture and ourselves.
"When you look at something like … Abercrombie & Fitch or Magic Mike, you don't think, 'Oh my god, what are these guys doing? This is such horrible, shameful work.' It's just, you know, funny," she said. "Why is it that women get shamed for doing this kind of work but men don't?"
More gaming news and updates
Check out the latest from Mic, like this deep dive into the cultural origins of Gamergate. Also, be sure to read this essay about what it's like to cosplay while black, a roundup of family-friendly games to play with your kids and our interview with Adi Shankar, producer of the animated Castlevania Netflix series.