Donald Trump Jr and Paul Manafort to testify before the Senate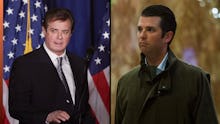 The Senate Judiciary Committee has announced that it has asked President Donald Trump's eldest son, Donald Trump Jr. and former Trump campaign chair Paul Manafort to testify in open session on July 26.
Reports say that Trump's son-in-law Jared Kushner is also set to testify on Monday before the Senate intelligence committee, but that his testimony will take place behind closed doors.
CNN reports that a spokesperson for Manafort confirmed that he had received the invitation to testify but declined to comment on anything else.
Trump Jr., Manafort and Kushner were all present at a now-infamous meeting between the Trump campaign and a Russian lawyer that had been arranged as part of the Russia and its government's support for Mr. Trump.
Before all the details of the meeting were released Sen. Susan Collins (R-Maine) called for Trump Jr. to testify before a different committee. At the time Trump Jr. tweeted that he would be "Happy to work with the committee to pass on what I know."
It's not yet clear whether that offer extends to the Judiciary committee as well.