New White House idea to woo moderates: take health care from the poorest to cover Medicaid expansion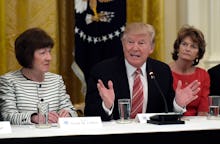 Trump's administrator of the Centers for Medicare and Medicaid Services, Seema Verma, is working on a new proposal to win over moderates who are concerned about the GOP health care bill's deep cuts to Medicaid.
The idea: Take money used to give health care to the poorest Americans and use it to give health care to slightly less poor Americans.
Under current law, anyone who is under the federal poverty line qualifies to receive health care through Medicaid. The federal government picks up on average about 57% of the cost of that care and the rest is covered by the states. The Affordable Care Act allowed states the option to expand Medicaid to cover anyone earning under about 138% of the poverty line. For anyone in the new expanded population in those states the federal government picks up around 90% of the cost leaving little for the states to cover.
The administration's new solution, known as the "Medicaid wrap-around" would continue with GOP plans to get rid of the Medicaid expansion, but allow states to use the rest of their Medicaid funds to cover the expanded population. Money previously earmarked for the poorest people in society would be spread out to cover the gap left by undoing the Medicaid expansion.
The plan is intended to sway moderates like Sen. Susan Collins (R-Maine) and Sen. Lisa Murkowski (R-Alaska) who are concerned about the effect that Senate Republicans' current plan would have on the Medicaid population in their states.
But some of those moderates don't seem sold on the idea just yet.
"I think it's best to sum it up as: it's complicated." Murkowski told the Hill after being briefed on the plan. "It will have differing impacts depending on where each state is respectively."
Senate Republicans held an all-hands-on-deck meeting Wednesday to try to hammer out their differences on health care policy. They are continuing to try everything they can to not let momentum get away from them before they have to return to their districts.