Sen. John McCain diagnosed with brain cancer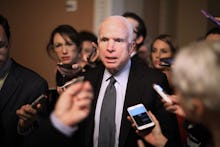 Sen. John McCain (R-Ariz.) has been diagnosed with brain cancer and is currently reviewing treatment options, his office announced on Wednesday.
Doctors discovered the cancer after performing a procedure on Friday to remove a blood clot from the area above his left eye.
"Subsequent tissue pathology revealed that a primary brain tumor known as a glioblastoma was associated with the blood clot," McCain's doctors at the Mayo Clinic in Phoenix said in a statement.
McCain, who turns 81 in August, has yet to decide what kind of treatment he will undergo.
"Treatment options may include a combination of chemotherapy and radiation," his doctors said in the statement.
His daughter, Meghan McCain, a Fox News contributor, said the news of her father's cancer has "affected every one of us in the McCain family."
"My love for my father is boundless, and like any daughter I cannot and do not wish to be in a world without him," she wrote in a statement on Twitter. "I have faith that those days remain far away."
McCain's office added that he is "in good spirits" as he recovers back home in Arizona, but said it's currently unclear when he will return to Washington, D.C.
"Senator John McCain has always been a fighter," President Donald Trump said in a statement. "Melania and I send our thoughts and prayers to Senator McCain, Cindy, and their entire family. Get well soon."
McCain's vote could be crucial for Republicans, who are currently struggling to repeal and replace the Affordable Care Act, better known as Obamacare.