Trump says he wouldn't have appointed Sessions if he knew he'd recuse himself from the Russia matter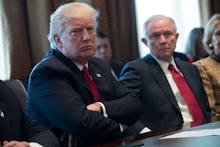 In an interview the the New York Times, President Donald Trump told reporters that he would not have appointed Jeff Sessions to be attorney general if he had known he would recuse himself from the Russia matter.
"Sessions should have never recused himself, and if he was going to recuse himself, he should have told me before he took the job and I would have picked somebody else," Trump said in the interview.
Sessions recused himself from matters involving the Russia investigation in March after it was discovered that Sessions had multiple undisclosed meetings with the Russian ambassador prior to taking office. After Sessions' recusal, Trump fired FBI Director James Comey, leading Deputy Attorney General Rod Rosenstein to appoint an independent special counsel.
"Jeff Sessions takes the job, gets into the job, recuses himself, which frankly I think is very unfair to the president," Trump continued. "How do you take a job and then recuse yourself? If he would have recused himself before the job, I would have said, 'Thanks, Jeff, but I'm not going to take you.' It's extremely unfair — and that's a mild word — to the president."
Trump also told the Times that he did not believe that the FBI was investigating him personally, despite reports that special counsel Robert Mueller is investigating Trump for potential obstruction of justice following Comey's firing.
In addition, Trump said that he believed Mueller would be going too far if his investigation led him to look into his family's finances irrespective of Russia.