Trump just warned Robert Mueller not to look into his finances — it might be too late for that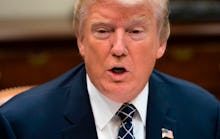 In an interview with the New York Times on Wednesday, President Donald Trump warned special counsel for the Russia investigation Robert Mueller not to look into his personal finances.
Moments after that interview was released, the Times released a separate story reporting that banking regulators are already taking a deep look into Trump's relationship with the German banking giant Deutsche Bank, and they expect to soon be hearing from Mueller as well.
According to the report, Deutsche Bank has loaned Trump's businesses hundreds of millions of dollars over the years. The Times also reported that federal investigators have been in contact with Deutsche Bank regarding Trump's accounts. The bank expects they will soon have to turn over information to Mueller's investigation, though it's not clear what the bank may provide.
In his interview with the Times, Trump was asked whether or not he thought it would be appropriate for Mueller's investigation to look into his family's finances outside any dealings with Russia. "No, I think that's a violation," Trump replied. "Look, this is about Russia."
Asked if he would fire Mueller for looking into such affairs, Trump said: "I can't, I can't answer that question because I don't think it's going to happen."
Deutsche Bank recently paid more than $600 million in fines to regulators in the United States and the U.K. for it's involvement in a Russian money laundering scheme.
Though Mueller's investigation is focused on the Trump campaign's ties to Russia, it has not yet been reported whether or not his investigation's inquiry into the bank has anything to do with Russia.