Capitol police arrest 155 during massive health care protest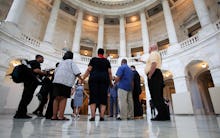 Police arrested at least 155 protesters outside the United States Capitol on Wednesday at the scene of the largest protest of Republican efforts to repeal and replace the Affordable Care Act to date.
In a statement, officials said protesters were ordered "to cease and desist with their unlawful demonstration activities" at 45 individual locations within Senate office buildings before police began making arrests, according to the Washington Post.
Officials added that the 155 people who were arrested have been charged with crowding, obstructing or incommoding, with five demonstrators additionally charged with resisting arrest.
Organizing groups included representation from the Center for Popular Democracy, Housing Works, National Nurses United and Health Care for America Now, among others.
In a joint statement released by the groups, Barb Cardell of Boulder, Colorado, who had already been arrested during similarly structured protests on July 10, said that she planned to risk another arrest on Wednesday.
"I've been living with HIV for 26 years, and I am alive because of my medication," Cardell said. "Without my medications, I would die, and without my health insurance, I can't afford my meds, which cost $10,000 per month... I have tried to speak with Sen. Gardner about this many times and wasn't able to reach him in Colorado, so I've come back today to try to find him myself."
According to the Congressional Budget Office, a Republican plan to repeal the ACA without replacement would result in a loss of insurance for an estimated 32 million Americans.
Protesters of the Republican health care bill had previously filled House and Senate buildings on July 10, and at least 80 arrests were made on that day.