20 attorneys general pen letter to Betsy DeVos urging her to keep campus sexual assault protections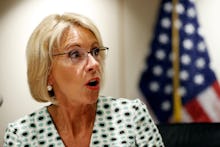 As Education Secretary Betsy DeVos ruminates on possibly dismantling Title IX protections for victims of campus sexual assault, a group of 20 attorneys general are pleading with her to keep current guidelines in place, according to BuzzFeed News.
"We are committed to working collaboratively with your Department to address the problem of sexual assault on America's college campuses," the attorneys general — from 19 states and the District of Columbia, and led by Pennsylvania Attorney General Josh Shapiro and New Mexico Attorney General Hector Balderas — wrote in a letter to DeVos, dated July 19.
"But any effort in this area must be deliberate and allow for meaningful input from all stakeholders, and it must focus on the ultimate goal of ensuring that all students are protected from discrimination, including sexual harassment, assault, stalking and domestic violence, under Title IX," they continued.
In 2011, the Office for Civil Rights in the Department of Education circulated a "Dear Colleague" letter outlining the ways in which Title IX, a 1972 educational amendment prohibiting sex discrimination in all educational programs receiving federal funding, should be used to police and investigate rape and sexual assault on college campuses. It instructed schools to complete investigations within 60 days using a "preponderance of evidence" standard, meaning a claimant need only show that it's more likely a sexual assault occurred than that it didn't, rather than proving their case beyond a reasonable doubt. It also allowed claimants to appeal not-guilty rulings.
DeVos and her head of the OCR, Candice Jackson, are currently reconsidering that guidance, and in so doing, have made a point of sitting down with people on "both sides" of the issue. Those groups have included survivors, survivor advocates, attorneys, educational officials and, to the chagrin of many, men's rights activists, who often reject women's rape claims as lies intended to smear men and have argued that Title IX denies the accused due process.
In their letter, the attorneys general acknowledged that Title IX guidance wasn't perfect — but room for improvement, they argued, doesn't mean the protections should be scrapped altogether, writing that a "rushed, poorly-considered effort to roll back current policies sends precisely the wrong message to all students."
The attorneys general nodded to comments Jackson made to the New York Times last week ahead of the "listening sessions" with concerned parties. "The accusations — 90% of them — fall into the category of 'we were both drunk,' 'we broke up and six months later I found myself under a Title IX investigation because she just decided that our last sleeping together was not quite right,'" Jackson told the Times. This was just weeks after she told her department to ease up on campus sexual assault investigations.
While the attorneys general did not join Democratic Sen. Patty Murray in asking that Jackson be fired, they did question her ability to fairly evaluate Title IX policy. Jackson's subsequent apology, the attorneys general wrote in the letter, didn't wipe out the message to survivors "that the Department does not take their concerns seriously and that it is not committed to continuing its current efforts to combat this epidemic on our college campuses."
By the government's own numbers, they reminded DeVos, over 20% of women students report experiencing sexual assault during their college years. The actual degree of sexual violence occurring on campuses is likely much higher, though, considering that about 90% people who are sexually assaulted never report it, according to the National Sexual Violence Resource Center. Taking away survivors' safety net, however imperfect, would have a chilling effect on reporting, the attorneys general warned.
As BuzzFeed noted, many of the letter's signatories are already suing DeVos and the Department of Education over its reversal of protections for students who are fleeced by their for-profit colleges. The attorneys general did not threaten legal action in Wednesday's letter, but they promised close collaboration to improve current guidelines around campus sexual assault — as long as DeVos does not wreck them entirely.
"Secretary DeVos and the Trump Administration cannot continue to put students in danger by considering harmful rollbacks that will weaken fundamental protections afforded under Title IX," Balderas said in an emailed statement. "Violence on America's campuses must be taken seriously."