'Pokémon Go' Legendary Update: Lugia, Ho-oh and more to come to Chicago event first, worldwide after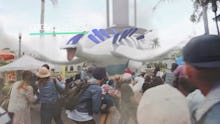 Pokémon Go updates from Niantic insisted on leaving out legendary Pokémon. The rare Pokémon that players could catch near the end of the traditional games were surprisingly absent from Pokémon Go entirely. With the latest update to Pokémon Go, that all changes. Niantic announced today in a blog post, legendary Pokémon are coming to the mobile game on iPhone and Android.
Pokémon Go legendary update: Rare birds like Articuno, Zapdos and Moltres are headed to the game
This is the biggest nod to the legendary Pokémon of the series we've ever seen from Niantic. The first trailer for the game hinted at capturing Mewtwo in a group setting and then never mentioned it again. Now we see that raids are truly the answer to catching legendaries in Pokémon Go.
Check out the Pokémon Go legendary trailer for yourself below.
In Niantic's post, the game-makers mention that these rare Pokémon will first hit raids in Chicago at the Pokémon Go Fest event. Whether or not legendary Pokémon will come to raids around the world depends on the performance of Pokémon Go players at this event, according to the post.
"On July 22, thousands of Trainers in Grant Park for Pokémon Go Fest and the millions of others around the world will be working together to unlock in-game bonuses for the entire Pokémon Go community. If they manage to catch enough Pokémon during the Pokémon Go Fest Challenge Windows, the first Legendary Pokémon will be revealed in Grant Park. If the Trainers in Chicago succeed in defeating the Legendary Pokémon, that Pokémon will start appearing in Raid Battles around the world, after Pokémon Go Fest."
For our sake, let's hope the Chicago event-goers do everything they can to catch 'em all.
Check out more Pokémon Go news and coverage
Raids are here! See how to locate the best ones and why they may be the key to legendary Pokémon. Find out how to determine how long it will take you to reach level 40, and see what we think of the Gen 2 Pokémon added to the game. Here are the kinds of Pokémon you get from 10-kilometer eggs, and here's where you can check out what you missed during the Water Festival and Solstice events. Find out more about the upcoming Chicago event and why you'll probably be able to catch Unown while you're there— if you're not busy searching for rare evolutionary items, that is.