'Pokémon Go' Update 0.69.0: New patch's remote feeding feature gets mixed reaction from community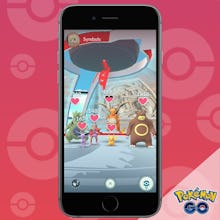 Earlier in the summer, Niantic shut down Pokémon Go's gyms to prep for a gym overhaul. The overhaul is now live, and includes major changes to how players get PokéCoins and how long Pokémon are able to defend gyms for. With update 0.69.0 (1.39.0 on iOS) adding additional berry functionalities, fans have discovered a new way to get candies from Pokémon stationed at gyms — even ones they don't own. Let's dig in to what's going on.
Pokémon Go update 0.69.0: Remote feeding feature causes excitement about the ability to get candies from faraway defenders
According to the Silph Road, players have confirmed that you can get candies and star dust by feeding your defenders berries from the game's info screen remotely. Although the patch notes state that doing so will reduce the amount of motivation the Pokémon receives from the berry, a user named Barstool confirmed receiving star dust and a candy from an ally's Kangaskhan:
If this is all unfamiliar to you, let's explain. Players received candy from feeding their and their allies' Pokémon as far back as June 23 on the Silph Road. It even works on Pokémon you don't technically have yet. However when players crunched the numbers, they found the chance of obtaining a candy this way was less than 1%, and that assumes all Pokémon have the same (or similar) drop rates.
Remote feeding wouldn't have changed those percentages all that much. It also won't radically change your ability to defend gyms from your home, since the motivation benefits of remote feeding have a pretty steep drop off. However, it would have made feeding your and your allies' Pokémon easier, since it wouldn't be proximity based. However you do also need to actually have a Pokémon in the gym in order to take advantage of this.
Players had difficulty taking advantage of this feature after it was announced, however. Niantic tends to spread out the distribution of updates, so not all players get them at the same time. Furthermore, the official Pokémon Go Twitter account tweeted Wednesday that they were temporarily disabling the feature.
The language seems to indicate that once the issue is resolved, remote feeding will be back. Remote feeding isn't likely to make or break you where candies are concerned, but it might just be the push some players need to fill out gyms with more unique Pokémon. Only time will tell.
More Pokémon Go news, updates, tips and tricks
Raids are here! See why they may be the key to legendary Pokémon. Find out how to determine how long it will take you to reach level 40, and see what we think of the Gen 2 Pokémon added to the game. Here are the kinds of Pokémon you get from 10-kilometer eggs, and here's where you can check out what you missed during the Water Festival and Solstice events. Find out more about the upcoming Chicago event and why you'll probably be able to catch Unown while you're there — if you're not busy searching for rare evolutionary items, that is.