After stunning cancer diagnosis, Washington rallies behind "fighter" John McCain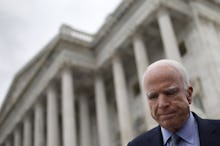 Sen. John McCain is a "fighter."
That's the message the political world sent as the Arizona senator and two-time presidential candidate stood at the threshold of perhaps his greatest battle yet: the stunning diagnosis of an aggressive brain cancer.
Messages of support for McCain poured in from across the political spectrum on the Beltway and beyond following the announcement of his diagnosis Wednesday.
Former President Barack Obama, McCain's opponent in the 2008 election, described the Republican as an "American hero" and "one of the bravest fighters I've ever known."
"Give it hell, John," he tweeted.
McCain, 80, was famously captured and held as a prisoner of war while serving in Vietnam. Severely injured, McCain refused an early release from his North Vietnamese prison unless those captured before him were also released. He spent more than five years as a POW before his release in 1973.
McCain's colleagues and family pointed to his toughness in their well wishes for the Arizona Republican.
President Donald Trump — who once famously questioned McCain's status as a war hero, and has been the subject of criticism from the "maverick" Republican — said in a brief statement that he and first lady Melania Trump "send our thoughts and prayers to Senator McCain, Cindy, and their entire family."
"Sen. John McCain has always been a fighter," Trump said in the statement. "Get well soon."
Republican Sen. Jeff Flake — McCain's Arizona colleague — said that while he is facing a "tough diagnosis," he is an "even tougher man."
McCain's diagnosis follows a July 14 blood clot removal, according to a statement from the senator's office Wednesday. During the procedure, doctors discovered a glioblastoma — an aggressive cancer that reportedly carries a median survival rate of 14 months to three years. McCain is recovering "amazingly well" at his Arizona home and is currently reviewing treatment options, according to the press release.
"Senator McCain appreciates the outpouring of support he has received over the last few days," he office said in the statement. "He is in good spirits as he continues to recover at home with his family in Arizona."
Meghan McCain — a Fox News host and the senator's daughter — said in an emotional statement that the news has "affected every one of us in the McCain family" but that her father has been the calmest of them all.
"He is the toughest person I know," she wrote. "Cancer may afflict him in many ways, but it will not make him surrender. Nothing ever has."
McCain, for his part, expressed thanks for the support — and warned his "sparring partners in Congress" that he'd be back soon.
July 20, 2017, 11:30 a.m. Eastern: This story has been updated.