Under Armour's latest campaign starring Misty Copeland is celebrating the power of female athletes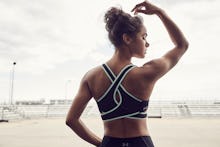 Female empowerment and female athletes are finally taking center stage in Under Armour's new campaign, Unlike Any, which aims to honor the skills and achievements of female athletes.
In the first commercials for Unlike Any, five accomplished women are celebrated: Misty Copeland, the ballerina extraordinaire; Jessie Graff, the stuntwoman and American Ninja Warrior legend; Alison Désir, the long-distance runner who founded the Harlem Run Club; Natasha Hastings, the Olympic gold-medal sprinter; Zoe Zhang, a taekwondo champion. In the fall, Lindsey Vonn, the Olympic skier, will join this group too.
"I believe in the power of inner strength and how it can push you to accomplish the seemingly impossible," Copeland said in a press release. "This campaign is a celebration of the inner strength that lives in every single person. It's a reminder for every woman out there who feels less than because of unnecessary comparisons, that they are strong, unique and truly Unlike Any."
Each woman involved in this first campaign gets her own video as well, which features inspirational and powerful spoken word poetry from Saul Williams, Kojey Radical, Aja Monet and more.
"For Unlike Any, we set out to celebrate and elevate our athletes to where they belong – above gender roles, above labels and above convention," Adrienne Lofton, the senior vice president of global brand management at Under Armour, said in a press release. "Our unique approach was to create these unexpected films that honor our athletes with powerful poems from the hearts and minds of some of the most thought-provoking artists in the world. Our brand aims to inspire women everywhere to continue making history in their own lives and this campaign is a reminder that we stand for and with her."
This empowering campaign starring Copeland comes after a bit of a controversy surrounding the brand. In February, Copeland, who's had several viral campaigns with Under Armour in the past, came out against the CEO's pro-Trump statements. "It is important to me that he, and UA, take public action to clearly communicate and reflect our common values in order for us to effectively continue to work towards our shared goal of trying to motivate ALL people to be their best selves," she said at the time.
And so now here comes this campaign, which Under Armour is claiming was inspired by the women's marches around the world.
Mic has reached out to Under Armour for comment.