Jeff Sessions: "I plan to continue" as attorney general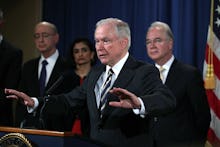 Attorney General Jeff Sessions said on Thursday that he has no intention to resign from his post as the country's top law enforcement officer, despite the fact that President Donald Trump voiced frustration with Sessions in a New York Times interview published Wednesday.
"We love this job, we love this department and I plan to continue to do so as long as that is appropriate," Sessions said at a Thursday morning news conference.
Sessions' comments come after Trump said he never would have given Sessions the job in the first place, had he known Sessions would recuse himself from the Russia investigation.
"Sessions should have never recused himself, and if he was going to recuse himself, he should have told me before he took the job and I would have picked somebody else," Trump said in the New York Times interview.
Sessions' recusal, however, only came after he denied ever meeting with Russians over the course of the 2016 presidential election during sworn testimony at his attorney general confirmation hearing.
Sessions had, in fact, met with Russian Ambassador Sergey Kislyak, which he failed to mention on his security clearance form. Intentionally lying on that form is a federal offense.