Report: Robert Mueller is broadening Russia investigation to include Trump's business transactions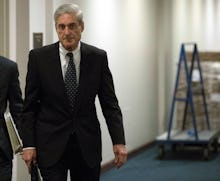 Special counsel Robert Mueller is expanding his investigation into the Trump campaign's possible Russia ties, Bloomberg News reported Thursday, and is now looking into the business transactions of the president and his associates.
According to the report, Mueller's probe includes apartment sales to Russians at Trump properties, a development deal with Russian associates, the Miss Universe pageant President Donald Trump held in Moscow in 2013 and the 2008 sale of a mansion in Florida to a Russian oligarch.
Investigators have reportedly subpoenaed bank records as part of the probe.
The report comes a day after Trump warned Mueller not to look into his personal finances.
"If Mueller was looking at your finances and your family finances, unrelated to Russia — is that a red line?" New York Times reporter Michael Schmidt asked Trump on Wednesday.
"I would say yeah," Trump replied. "I would say yes."
Trump added later in the interview that if Mueller expanded his probe into Trump's finances that it would be a "violation."
"Look, this is about Russia," Trump said. "So I think if he wants to go, my finances are extremely good."
When pressed by New York Times reporter Maggie Haberman on whether he would fire Mueller "if he went outside of certain parameters," Trump demurred.
"I can't answer that question because I don't think it's going to happen," the president responded.