Any hotel can call itself "green" — we investigated exactly what that means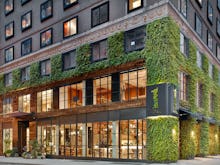 This is part one of a three-part series that looks at green hotels — what that means, how it works and what consumers can do.
Kermit was right: It's not easy being green.
It's also rarely easy to make sense of a hotel's marketing babble about being "green" — that buzzword connoting eco-friendliness in the vaguest sense. Marriott says it "supports business growth and reaches beyond the doors of our hotels to preserve and protect our planet's natural resources." Hyatt claims to "engage with our guests, colleagues, owners and neighbors to build strong communities and foster sustainable environmental practices." But what does that actually mean?
With climate change at the forefront of a national political dialogue and with 2017 named the International Year of Sustainable Tourism for Development by the United Nations, it's no wonder consumers care about the answer.
Take Chelsey Perron, a Kentucky-born Costa Rica resident who regularly searches TripAdvisor and Booking.com reviews for words like "green" and "sustainable." "If I like the look and sound of a hotel, I go onto their website and see if there's anything about sustainability on the home page," Perron said in an interview. "If it's up top and prominent as a feature on the home page, instead of buried in the footer, that's an indicator that sustainability is actually important to them."
Sustainability is on the rise
In 2016, the American Hotel and Lodging Association surveyed more than 8,000 member and nonmember hotels and found that green practices, as a whole, are up. Hotels with linen and towel reuse programs have risen from 66% to 94% in the last decade; there has also been an uptick in in-room energy-management sensors (48% up from 21%) and recycling programs (63% up from 37%).
Sustainability features are gaining speed in the hotel industry: We've probably all seen the cards that indicate that your sheets won't be changed every day unless you specifically ask for it. But unless you're an engineer or someone who knows how to measure units of heat, it's hard to fully grasp the mechanics.
There's no true definition of the "green" label
The Environmental Protection Agency may have a resources page on "green hotels," but the term, though ubiquitous, is inexact. Unlike "design hotels" — both an adjective and a trademarked name — "green hotel" isn't a proper noun, nor does it require specific credentials.
What the word "green" hopes to transmit, however loosely, is a hotel's efforts to minimize water consumption and pollution, conserve energy, reduce waste from food and drink, source responsibly (say, from a furniture manufacturer that reuses the waste it generates during production) and implement solid waste management and recycling programs. At best, any hotel that calls itself green is doing all of the above. At worst, none (or very little) is happening; "greenwashing," the practice of misleadingly using the label "green" in marketing or advertising, is officially recognized as an issue by Greenpeace.
But there is a whole industry dedicated to ensuring hotels do what they say
"I think, therefore I am" is not a maxim here; materials can be traced, water savings can be computed, pollutants can be measured.
This is where certifiers, traditionally independent organizations that assess a hotel's sustainability practices, come in. Certifiers generally work in a half-watchdog, half-partner capacity, providing a checklist of concrete targets. A hotel will take that list and lumber through the application process — usually a documentation-heavy flurry of self-assessment, on-site inspections from auditors and reviews by subject-matter experts. Specialists might review a hotel's energy model to assess its annual carbon dioxide emissions, or pore over exactly what percentage of interior walls is clad with paint free of volatile organic compounds. Once the process is complete, the certifier will issue a hotel a seal or badge to display on a concierge desk, lobby wall, website and marketing materials.
There are hundreds of certifiers to ensure hotels do what they say. Some, like CarbonZero, which tracks carbon emissions, are specialized. Green Tourism in the U.K. and Virginia Green here in the States are two groups that certify projects within certain geographical bounds. And there are certifiers like the Forest Stewardship Council that examine sourcing of specific materials, in this case, wood. Green Seal largely certifies household products like cleaning supplies — and hotels. The list goes on.
One of the more widespread hotel-industry certifications is Green Key Global, which awards hotels, motels and resorts up to five keys based on how routine business operations (like housekeeping and conference facilities, for example) affect sustainability criteria (such as solid waste management and energy and water conservation). There are currently 1,639 Green Key Global members worldwide, and 20% are audited annually to ensure they're maintaining standards.
Confused by LEED? Think of it like the Electoral College.
Perhaps the most well-known certification framework is LEED, or Leadership in Energy and Environmental Design, issued by the U.S. Green Building Council. "Once you have that plaque on your wall, you're definitely making a statement," Erika Duran, a Dagher Engineering sustainability consultant who coaches clients through the certification process, said in a phone interview.
How does LEED work? First, certain prerequisites must be in place, like recycling the obvious things (paper, glass) and water-saving fixtures and appliances (designated by Energy Star and WaterSense, both EPA programs).
From there, LEED offers four levels of certification, awarding designations based on the following point system: Certified (40 to 49 points), Silver (50 to 59 points), Gold (60 to 79 points) and Platinum (80 or more points). The system is a bit like the U.S. Electoral College; it doesn't matter how you get to 270 — or, say, the 60 to 79 points needed to get LEED Gold status. It just matters that you get there, picking and choosing from a "menu" of potential credits that all have a point-valuation based on how much they positively impact the environment.
The U.S. Green Building Council makes the LEED credits library publicly available; it is a fascinating and seemingly endless rabbit hole of technical specifications. Bike storage and showers — so employees can comfortably bike to work — is worth up to 1 point. Locating a building close to public transportation is worth up to to 5 points. Sourcing products that have been created in an environmentally responsible way is worth up to 2 points. A rainwater management system is worth up to 3 points.
In the United States, there are 106 LEED Certified hotels, 157 LEED Silver hotels, 119 LEED Gold hotels and nine LEED Platinum hotels.
Whether a hotel pursues Certified versus, say, Platinum depends on myriad factors; among them: budget, project deadline, local building laws and tolerance for paperwork and documentation. "It's heavy on the verification, so sometimes when you talk to somebody about their LEED certification, they might wince a little," Rhiannon Jacobsen, vice president of strategic relationships at USGBC, said in a phone interview. "But what LEED allows you is a very transparent look under the hood. Are they saving water? Where are they coming in at energy? Is it going to be a healthier, high-performing building? In today's world, the educated buyer is looking for that bit of proof."
To Jacobsen's point, guests can search the USGBC's LEED Project database to see which hotels have earned certification and how the points break down. But many consumers will find this info just as Perron, the Costa Rica resident who searches specifically for green hotels, does: while browsing a hotel's website. "Seeing the LEED certification gives the peace of mind that I don't have to do deeper research," she said.
Another easy check is to look for the GreenLeaders badge (shaped like a leaf) on TripAdvisor. To get the badge, hotels submit a list of their qualifications to TripAdvisor, and they must reapply every two years. There's no required on-site audit for the application. TripAdvisor reported that, on average, hotels with the GreenLeaders badge have a 7% higher rating than those without it.
Hotels are also keeping themselves in check
In an effort to impose consistency on large portfolios, some hotel groups have started developing proprietary certification frameworks. Hilton's LightStay, for instance, monitors energy use, water use and waste in all 5,000 of its hotels. InterContinental Hotel Group's Green Engage is a four-level certification program with a "menu" of over 200 sustainability features, allowing individual properties to pick and choose. (According to the company's estimates, hotels in the third or fourth levels of certification can use up to 25% less energy.)
Of course, the way a hotel approaches sustainability varies depending on its location, size, management structure, price point and brand mission. In the next installment of this three-part series, we'll dig into how those factors take shape in a few radically different U.S. hotels, including 1 Hotel Brooklyn Bridge, a design-forward new urban property; the Kimpton portfolio, a relatively new member of IHG's suite; and Canyon Lodge, a renovated hotel that's implementing sustainability initiatives within Yellowstone National Park. And finally, we'll report on exactly you can do to be a greener guest, no matter where you stay.