Lena Dunham's role on 'American Horror Story' is not the end of the world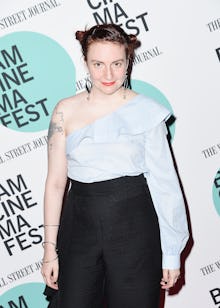 Ryan Murphy announced on social media Wednesday that Lena Dunham is joining the next season of American Horror Story — and Twitter reacted. (For the purposes of this article, "reacted" means "acted as if America has failed and everyone is going to die immediately.)
Some AHS fans mentioned Dunham's "child molestation," in reference to her alleged sexual experimentation with her younger sister.
Others seemed to tap into a deep pool of hatred for Dunham they could not trace back to any tangible source:
Some even called for the show's cancellation:
While Dunham has always been a divisive figure, this reaction raises eyebrows. Dunham's quirky onscreen persona should fit right in with AHS's eclectic mix of styles and characters. The show has never shied away from the weird and the wonderful, and Dunham straddles both descriptions with ease. Plus, if AHS can transform the generally unlikable Emma Roberts into a tolerable screen presence, it can do something similar with Dunham.
For her part, Dunham has responded with a casual dismissal of the online hate.
While it's easy for Dunham-haters to zero in on the Girls creator's life choices — like her experimentation with her sister — their feelings more likely stem from culturally ingrained misogyny or a general resentment of Dunham's entitlement. In any case, their hate — justified or not — is irrelevant and inconsequential here. AHS has always been more than the sum of its parts, and Dunham's appearance will likely neither help nor harm the series.
Buzz about season seven has hit a fever pitch ever since Murphy's "final clue" left many fans scratching their heads Tuesday. Murphy also tweeted July 10 that the title of AHS's season seven will be revealed Thursday. This will most likely happen near FX's "FXhibition" space at Comic-Con; the network has already announced it as the location of a special AHS season-seven stunt taking place at 9:15 p.m. Pacific time.
Whatever happens Thursday, hopefully fans won't react the way they did to the Dunham news.
Mic has ongoing American Horror Story coverage. Please follow our main AHS hub here.