Muslim bus driver in Atlanta is suing elementary school principal for discrimination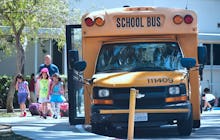 An elementary school principal in Atlanta is facing a lawsuit for allegedly discriminating against a Muslim school bus driver.
Twanesia Crawford, a bus driver for Atlanta Public Schools, said Hope-Hill Elementary School principal Maureen Wheeler banned her from entering the school, the Atlanta Journal Constitution reported Wednesday. Crawford alleged that Wheeler prohibited her from going inside Hope Hill after she was caught praying alone in the school bus in October 2015.
According to the lawsuit, which was filed in January 2016, Crawford's bus was blocked from leaving the parking lot on Oct. 29, 2015. During the time she was stuck in bus traffic, Crawford silently prayed.
"Since it was still dark, and given that Ms. Crawford was unable to move her bus with other vehicles in her path, Ms. Crawford took the time to lower her head and raise her palms in silent prayer," the lawsuit said.
Crawford said she isn't even allowed to use the bathroom at the school.
"I can't go in," Crawford told Channel 2 Action News, a local television station in Atlanta. "I have to use the bathroom at a gas station."
Crawford has been a school driver for APS since 1996. As a practicing Muslim, she uses her free time after picking up and dropping off children to pray. One of the main pillars of Islam is to pray five times a day.
Wheeler knocked on the bus door and asked Crawford what she was doing. "She said, 'I'm praying to Allah,'" A.J. Lakraj, Crawford's attorney, told Channel 2. "She had her palms raised and the principal said, 'You can't do that here. You need to leave.'"
"Allah" is the Arabic translation for God.
According to the lawsuit, Crawford then went to use the bathroom. Wheeler allegedly followed her and waited outside the door while Crawford was inside. She also followed Crawford when she left the school building.
On Nov. 6, 2015, Wheeler allegedly blocked Crawford from entering the school building. She reportedly followed Crawford again on Nov. 13, 2015, when the bus driver used the school's restroom, the lawsuit said. "I don't want you in the building," Wheeler said. "I don't want to see you here anymore."
The lawsuit claimed Crawford has never had an incident with any of the other schools she served as a bus driver. She has also used restrooms at other schools without incident. Further, Hope Hill has no policy prohibiting drivers from using public school restrooms, Crawford said.
Crawford called the police after Wheeler banned her. One month later and prior to the lawsuit, Crawford filed a grievance with the director of transportation alleging the violation of her religious freedoms, the Constitution reported.
Wheeler, APS and Crawford's attorneys did not respond to Mic's request for comment.