'Destiny 2' Error Code Olive: What to do if the beta doesn't work and you get this message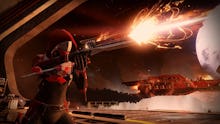 Destiny 2 is currently in beta, which means things are frequently going to break with no clear explanation. I mean, there is usually some kind of explanation in the form of vague error codes, but those aren't necessarily for your benefit. We've already written a short guide to Destiny 2's error codes, but players are running into a new one: Olive.
Destiny 2 Beta Error Code Olive: Here's how to deal with it
According to Shack News, it isn't really clear yet what error code Olive means. Like I said, these error codes can be more for the benefit of Bungie than the player. Bungie has an official tip on its website for error code Olive, but the advice given is probably something you could have figured out on your own:
Please retry that activity again and resume what you were doing before the error occurred. If you encounter this error again, please exit Destiny then relaunch. If you continue to see this error, it's likely due to testing we are doing on our end, please pardon our dust! Watch help.bungie.net and follow @BungieHelp for updates.
If you get error code Olive, retry whatever you were doing. If that doesn't work, restart the game. Unplug it and plug it back in. You know the drill.
Unfortunately, this is probably the best advice you'll get regarding Olive from Bungie. This is a beta, meaning it's valuable on Bungie's end because they get to find out what does and doesn't work when lots of people are trying to play at once. This is to be expected.
More Destiny 2 news and updates
If you can't wait to get back out on patrol with your Fireteam, check out the rest of our coverage for Destiny 2. We've got coverage about why Bungie opted not to use dedicated servers for the sequel, why there won't be cross-play and cross-saves for PC and what you can expect from the game's PC specs and Battle.net partnership. Additionally, you can check out the new Supers being added to the game, some details behind guided games and the new Crucible changes as well. Finally, you can check out our ongoing coverage of the beta here.