'Overwatch' Update: Ana nerf set to patch her annoying sleep dart ability in Total Mayhem mode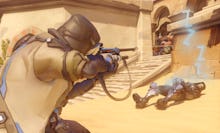 Overwatch's Total Mayhem is supposed to be, well, mayhem, but one character's ability is breaking the special mode. Thankfully, it looks like Blizzard is working an update to nerf Ana and her sleep dart, according to a recent forum post.
Overwatch Ana nerf: Why her sleep dart needs to be updated
If you play the Total Mayhem game mode in Overwatch, then you've probably been victim to at least one Ana — and it's quite terrible. For those who don't know, in Total Mayhem, all health is doubled, ultimate charge rates are 50% faster and ability cooldowns are 75% faster.
While this mostly just makes characters more annoying — with Tracer's basically limitless blinking and constant Mercy resurrections — it can also break other characters. For example, because Hanzo's cooldown on his sonic arrow is now shorter than the duration of the arrow, you can actually have two sonic arrows active at once.
Hanzo's sonic arrow isn't really a big deal — especially compared to what Ana can do. If you're familiar with her moves, you'll know that Ana can put any enemy to sleep with the use of a dart. It's a wonderful move that can shut down ultimates, but because of the cooldown change in Total Mayhem, you can be kept asleep for the whole game.
Here's what that looks like:
This happens a lot in Total Mayhem, but luckily Jeff Kaplan, like the superhero he is, announced that this will be "fixed in an upcoming patch." It's unclear what exactly that means, but hopefully we'll learn more soon. In the meantime, we should all praise the Overwatch gods this week.
Correction: July 20, 2017
More Overwatch news and updates
For more on Overwatch, check out the rest of what Mic has to offer. Here is an intro to the cute, new "Wholesome Overwatch" subreddit, a look at some gorgeous Overwatch-themed PS4 and Xbox One controllers, a cool Easter Egg in the new Horizon Lunar Colony map and a criticism of Blizzard's failures in its design of Symmetra.