6 months later, Donald Trump hasn't passed any of the 10 major bills he promised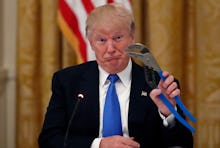 Six months after President Donald Trump took office, he has not passed any of the 10 bills he promised he'd introduce and pass within his first 100 days in office — leaving him with zero major legislative victories as Congress gears up to leave town for the month of August.
Since the end of his first 100 days on April 28, little progress has been made on Trump's legislative agenda.
His promise to "repeal and replace Obamacare" is floundering. Senate Republicans are at an impasse on how to make good on their seven-year promise to get rid of former President Barack Obama's signature domestic achievement and replace it with a law that would lower costs and provide more options to consumers.
And lack of progress on health care reform in turn imperils his promise to overhaul the tax code — another one of his major promises.
Here are the 10 bills Trump promised to introduce and pass by April 28, and where they stand now at the six-month mark:
Middle Class Tax Relief and Simplification Act: Trump's plan to "grow the economy 4% per year and create at least 25 million new jobs through massive tax reduction and simplification" has not been released.
End the Offshoring Act: This law would impose "tariffs to discourage companies from laying off their workers."
Trump called for a study on whether steel imports threaten national security, and said he could impose tariffs on those imports. But so far, he has not yet imposed them or introduced legislation to impose them.
American Energy and Infrastructure Act: Trump has not yet released an infrastructure plan.
School Choice and Education Opportunity Act: Trump's proposed plan for school vouchers has not yet been released. And the House denied many of the funding requests the Trump administration requested for school choice.
Repeal and Replace Obamacare Act: The American Health Care Act passed the House in May. It's currently stalled in the Senate, and has little support from the public.
Affordable Childcare and Eldercare Act: Trump's childcare plan has yet to be introduced.
End Illegal Immigration Act: This bill, which Trump said would "fully-fund" the wall between the U.S. and Mexico and would be paid for by Mexico, has yet to be introduced. The House included some funding for the wall in a yet-to-be-passed funding bill for a handful of federal agencies, but it will face a tough fight in the Senate.
Restoring Community Safety Act: Trump said this bill would increase spending for police training programs and add resources for law enforcement agencies to fight crime. It's yet to be released.
Restoring National Security Act: This bill — which Trump said would nix the defense sequester which places a limit on defense spending as well as privatize veterans' health care — has yet to be released.
Clean Up Corruption in Washington Act: Trump has yet to release an ethics bill. He did sign ethics executive orders which he said would limit lobbying, but has issued dozens of waivers exempting White House staffers and federal officials from those rules.