'Insecure' season two is television for us, by us — and it's even better than before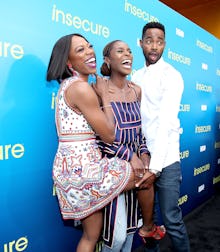 Issa Rae is hella casual about being one of television's rising stars. The Golden Globe-nominated actress and executive producer of HBO's Insecure demurs in interviews when media personalities mention she's made it "to the top."
Perhaps that's why the show's recent Emmy snub doesn't faze Rae. To her, she's still working her way up there. "It would have been amazing to get an Emmy nomination ... but that just motivates me more," Rae told Vanity Fair. "We're gonna get on the radar."
But to her core audience of young black viewers, Rae's already buzzing at high frequency. The series — which pulled in 3.2 million viewers per episode in its first season — was renewed by the network before its debut season ended. Social media users erupted over the season one finale after Issa's estranged boyfriend Lawrence (Jay Ellis) enacts revenge and gets it all the way poppin' with friendly bank teller Tasha (Dominque Perry). Whether fans were #TeamIssa or #TeamLawrence, they knew one thing — they were ready for more, pronto.
Just eight months later, Insecure's second season premieres Sunday. If the first four episodes are any indication, Rae and her team — showrunner Prentice Penny, director Melina Matsoukas and a gaggle of diverse writers — have nearly perfected the craft of showing everyday black life on the small screen. Issa and Molly's (Yvonne Orji) relationship continues to offer the most honest portrayal of black female friendship and sisterhood seen on TV. There's more sex (with lots of male nudity, to boot) and bellyaching laughs at every turn (Issa's in-front-of-the-mirror raps are as sharp as ever). Yes, the show appeals to a wide audience by focusing on universal themes of romance, friendship and workplace worries. But the subtle nods to black history and pop culture — a Harriet Tubman hoodie here, a Tupac/Biggie T-shirt there — remind black viewers that the series is made for us, by us.
Within the first few minutes of the season two premiere, audiences find Issa navigating unfamiliar territory: the dating world. SZA's "Love Galore" and Teedra Moses' "You Better Tell Her" are note-perfect soundtrack choices for the first two episodes as she wallows in singledom. She clearly just wishes she and Lawrence, who she was in a relationship with for five years, were back together. But like millions of women looking to find their next bae, she swipes left and right, searching for a distraction and rotating through a Rolodex's worth of first dates — if you're a fan of viral internet stars, you'll quickly recognize King Bach and King Keraun.
As Issa's dating life comes into focus, Molly finally takes her best friend's advice and goes to therapy. She talks mostly about her career in those sessions, avoiding the dating neuroses that brought her there in the first place. But Molly — whose work life was solid in the first season — has started to see that her career isn't as stable as it seemed. She learns that Travis, a white male co-worker, makes more money than she does. In a quick conversation at a colleague's going-away party, she slyly confronts the issue, which is something that many women can easily relate to.
"I can't just roll up to the partners and say, 'I accidentally noticed that you are paying this white man more than me,'" she tells her friends at a house party. "I'm one of the best lawyers they have. I'm not one of these work-twice-as-hard, pay-me-half-as-much types of bitches. Nah."
Lawrence is settling in at his new job, searching for a new apartment and, yes, still seeing Tasha. At an art exhibition, Issa finds out from her girlfriends Tiffany (Amanda Seales) and Kelli (Natasha Rothwell) that Lawrence has already moved on. Within seconds, Molly — ever the online detective — pulls up Tasha's Instagram page (I swear, every woman has a friend who is a sleuth on the low). While Issa fronts for her friends like she doesn't care, she retreats to the bathroom to perform another epic rap.
"My new name Alanis, 'cause there's shit you oughta know," she raps. "I'll do whatever to win, fuck going high, I'm going low." She quickly snaps out of that moment as Molly walks in to check on her. Pumped by her rhymes, Issa barks at Molly to "pull that bitch up" on Instagram.
Moments like this are where Insecure's casual relatability shines brightest. During a recent appearance on "The Breakfast Club" radio show, Rae said she wanted to make sure that the series stayed "grounded" and "authentic" to everyday life, and didn't concern itself with the kind of dramatic twists and turns that can often make a TV show feel exhausting.
She's certainly succeeded: Insecure returns fresher and more energized this season, but its characters remain personable and the situations still feel very real. The show continues to reel its audience in by going deeper and becoming more familiar, just like any great relationship.
Insecure airs on HBO on Sunday nights at 10:30 p.m. Eastern.
Mic has ongoing TV coverage. Follow our main TV hub here.