Linkin Park's Chester Bennington dead at 41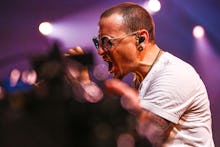 Linkin Park singer Chester Bennington died by suicide at 41 years old, leaving behind his wife and six children, TMZ reports.
Bennington hanged himself in his Palos Verdes Estates home in Los Angeles County, where his body was found Thursday around 9 a.m. Pacific.
Coroner spokesman Brian Elias says Bennington's death is being investigated as suicide, but has yet to release any further details, the Associated Press reports. It's unclear if drugs played a part in Bennington's suicide, but the singer has struggled with substance abuse in the past. In a 2016 interview with Team Rock, Bennington spoke of his drug use and how opening up to his fellow bandmembers helped him.
"I was on 11 hits of acid a day," Bennington told Team Rock. "I dropped so much acid I'm surprised I can still speak! I'd smoke a bunch of crack, do a bit of meth and just sit there and freak out. Then I'd smoke opium to come down."
In the same interview, Bennington recounted how in 2006 his bandmembers helped him understand how his substance abuse was impacting those around him.
"In 2006, I had a choice between stopping drinking or dying," Bennington said. "I did some counselling with the guys and they really opened up and told me how they felt. I had no idea that I had been such a nightmare. I knew that I had a drinking problem, a drug problem and that parts of my personal life were crazy but I didn't realise how much that was affecting the people around me until I got a good dose of 'Here's-what-you're-really-like.' It was a shock. They said that I was two people – Chester and then that fucking guy. I didn't want to be that guy."
Bennington's suicide comes on the birthday of Soundgarden's Chris Cornell, who also died by suicide in May. Bennington and Cornell were close friends who also shared the stage with one another on multiple occasions. When Cornell died, Bennington penned a heartfelt open letter to him.
Linkin Park was formed in 1996 with Bennington leading the group with his angsty vocals. The Grammy-winning band found major success over the years with legendary albums like 2000's Hybrid Theory and 2003's Meteora, collectively selling more than 70 million albums to date. Linkin Park's most recent album, One More Light, replaced the screeching, metal-tinged sound that catapulted them to fame for a softer, more radio-friendly approach.
Linkin Park singer Mike Shinoda, who was one of the original founders of the group, responded to the news of Bennington's suicide, noting an official statement is forthcoming.
This story is breaking and will be updated.
July 20, 2017, 4:23 p.m. Eastern: This story has been updated.