'PES 2018' Online Beta Gameplay: First impressions from the early demo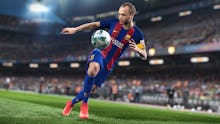 Pro Evolution Soccer 2018, the soccer simulation that has delivered arguably the best representation of the sport over the past two years, is available in demo form now for the PlayStation 4 and Xbox One. Xbox fans must have Xbox Live Gold to have access to the PES 2018 online beta.
Now that the PES 2018 online beta is out in the wild, first impressions from the new game are trickling in. Here's what players are saying about the latest entry in the series.
PES 2018 online beta gameplay details
There are only two playable teams in the PES 2018 online beta: France and Brazil. There's also just one stadium: the "Neu Sonne" Arena.
Fans can play in one-on-one or three-on-three matches. There's also an option to change the time of day and control the weather conditions. The file size is 5.9GB, according to the PlayStation Store website.
The beta was released on Thursday and some gamers have taken to Operation Sports and Reddit to give their early impressions.
Almost all of the feedback so far has been positive.
PES 2018 online beta gameplay: Impressions from around the web
Here's what Operation Sports commenter RoyceDa59 had to say:
Played a few matches this morning and enjoyed it. Game is waaay slower and ball feels really free.
The online connection has been perfect so far. The game looks and feels great. Only negative so far is the matchmaking. It's kinda slow but got better as I played more games.
Here's another favorable comment from Cpre5:
The pace feels great.
I'm loving how the ball is its own thing and will continue on its path while the players battle for position. I'm so used to FIFA and having the ball just stuck to you.
Over on Reddit, user Foolishbean noted that the game played great, though the connection wasn't perfect.
"Gameplay feels wonderful and smooth," they wrote, "Really liking it! Online connection seems just as poor as usual to me at this stage."
Another reddit user named Loafing Striker said the following about the demo:
Only played one match so far, but I think the gameplay feels fantastic.
The players and the ball feel much heavier than 17.
The pace actually makes sense. Fast players are fast. The dribbling feels much smoother and varied than 17.
The physical play/collision system seems to have been improved — players jockeying to win aerial battles feels really nice.
The graphics seem nicer than 17 on the whole, and the slimmer player models do seem more realistic. No gigantic poofy shorts anymore.
I mean it in the nicest way possible, 18 almost feels like a hybrid between PES 17 and a FIFA. Really excited now.
Finally, here's Reddit user BlueLegend97's gameplay impressions:
GAMEPLAY FEELS SO BLOODY GOOD!
Smooth, direct and balanced collision system! Its great!
My opponent tackled me from behind. It looked like a straight red ... he got a red.
The teammate pressure (holding O on defence) felt a bit OP to be honest. Perhaps because my opponent wasn't great and held the ball too long too often. But at the same time I couldn't completely rely on it and had to manually defend so I wouldn't get mugged off by just throwing defenders all over the place. I feel with a skill move or two, you can beat a press or just pass smartly.
Overall however, amazing! It feels awesome and responsive. I scored two great team goals on way to a 2-0 victory. One was a smart counter attack and the other was a low cross. Small sample size, but it's looking good so far.
PES 2018 online beta: Gameplay Video
With so many ringing endorsements coming in for the online beta, it appears PES 2018 is set to pick up where PES 2017 left off. Last year's game received an 85 score on Metacritic.
Take a loot at this gameplay video from WeArePES on YouTube. The animation and gameplay look smooth, and the collision detection is nearly immaculate.
If this sample of the experience is an accurate indication, the Metacritic score for PES 2018 will be even better.
More sports gaming news and updates
Love sports games? Check out more content from Mic, including tips for leveling up your NBA 2K17 MyPlayer, playing quarterback in Madden 17, our review of MLB The Show 17 and the classic Nintendo sports games we want to see on the Switch.