Six months after the Women's March on Washington, the Resistance Revival has a message for Trump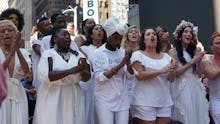 Six months after its historic demonstration in Washington and around the globe, the Women's March activist group commemorated its ongoing resistance to President Donald Trump's policies with a flashmob in Manhattan's Times Square on Sunday.
The goal, flashmob co-organizer Paola Mendoza explained in a phone interview, was to "take over a section of New York City that is a multitude of different types of people, of tourists from all over the country and all over the world, and to say, 'This is what is happening in this city; art is at the heart of the resistance, and hear our voice, because the resistance isn't going anywhere.'"
Dressed in white, 32 women from the Resistance Revival Chorus performed "Rich Man's House," slightly tweaked in its final stanzas to send a pointed message to the president.
Well I
On Jan. 21, one day after Trump's inauguration, the Women's March on Washington drew hundreds of thousands of people to the nation's capital and millions of people to rallies staged around the world. In the intervening six months, the activist group — led by Tamika Mallory, Linda Sarsour, Carmen Perez and Bob Bland — has rallied its troops for a number of smaller actions, including a strike for labor rights on International Women's Day and a 17-mile trek from the National Rifle Association's headquarters to the Department of Justice last week.
The Women's March has not been free of controversy, enraging conservative news outlets when it recently wished Assata Shakur, a member of the Black Liberation Army implicated in the 1973 killing of a New Jersey state trooper, a happy birthday on Twitter. Those same outlets also became infuriated when Sarsour used the word "jihad" — which she clearly defined as "struggle" — in the context of tyranny, fascism and Islamophobia.
The organizers continue to mobilize in an effort to maintain momentum, and with good reason, as the Trump administration continues to lob attacks on women, threatening their rights to reproductive autonomy with every iteration of the now-failed Republican health care plan. The Trump administration has also targeted Planned Parenthood, proposing policies that would prove disastrous for low-income and rural communities, people of color and transgender patients. Within days of taking office, Trump enacted an extreme version of the "global gag rule," which blocks funding to international family planning organizations that offer or refer women to get abortions.
Trump has also proposed trimming 25 grant programs aimed at eliminating violence against women; pulled back U.S. contributions to the United Nations maternal health fund; rolled back equal pay and sexual harassment workplace protections; and signaled his intention to cut funding for the Office of Global Women's Issues. His Education Secretary, Betsy DeVos, is currently considering dismantling legal protections for victims of campus sexual assault.
All told, these past six months have been a disaster for women's rights. But on its half-year marker, the Women's March is "calling for a resistance revival, a revival of our spirits, of our commitment to the movement, of our joy and of our power," according to an emailed statement.
On Monday, the Resistance Revival Chorus will perform with the Women's March again, opening and closing Resistance Revival Night, which will showcase an assortment of as-yet unannounced artists performing protest songs.
Resistance Revival Night begins at 8 p.m. at City Winery, and will be the first in a monthly series of pop-up protest concerts Women's March organizers planned in collaboration with organizers from the Working Families Party. Mendoza explained that the concept comes from Women's March honorary co-chair Harry Belafonte: "When the movement is strong, the music is strong."
"Clearly the resistance movement at this moment is very strong, and what we wanted to do specifically was bring ... protest songs into the resistance for a variety of reasons: To give us strength to inspire us to heal us to gather community around," Mendoza explained.
The Women's March also has a conference on the books for fall, where fledgling and seasoned activists will be given new "tools on how to continue to fight within this new resistance." Whether conference or concert, though, events in the next six months are planned, according to Mendoza, "always with the same intention: to bring community together and to inspire us to fight."