Linkin Park's Chester Bennington was open about his pain. That doesn't make his death less shocking.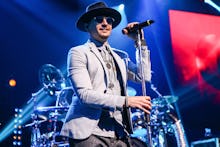 From the very first lyrics he sang on "Crawling," one of Linkin Park's defining singles from their 2001 debut album, Hybrid Theory, Chester Bennington was clear about his view of his life: He had suffered, he suffers — present tense — and yet he survives.
"There's something inside me that pulls beneath the surface," he sings in the song's first verse. "Consuming, confusing/ This lack of self-control I fear is never-ending." The album never let up. "One Step Closer" channels a momentary madness that brings you to the edge of a total mental breakdown, soundtracking it with searing guitars. "In the End" grapples with an unbending nihilism, which Bennington tries desperately to look past over the course of the song; in the end, he couldn't.
When musicians die, fans naturally want to honor and celebrate them by poring over the music they left behind. Bennington's work with Linkin Park offers a bittersweet salve. His tracks are more haunting to listen to given the knowledge of how Bennington chose his end — reportedly hanging himself on what would have been the 53rd birthday of his dear friend, Chris Cornell, who in turn hanged himself in May — but they're also a window into how music can help an individual make sense of their life.
"If it wasn't for music, I'd be dead," he told Rock Sound in March. "One hundred percent."
Over his 18 years at the helm of the band, Bennington's writing never brightened, even when his brutal, existential musings were paired with sunnier music. The bouncy, synth-driven "Heavy," the band's lead single from their 2017 album, One More Light — a title that's also taken on new meaning in the wake of the singer's reported suicide — opens with the lyrics: "I don't like my mind right now/ Stacking up problems that are so unnecessary/ Wish that I could slow things down/ I wanna let go but there's comfort in the panic."
In his music and in interviews, Bennington was extremely blunt about contemplating suicide and about the troubles he faced in life. There was power in that bluntness. He faced the realities of his experiences — which included childhood sexual abuse, shattered relationships, alcoholism and drug addiction — and had strong words for journalists who dared to question whether or not his pain was real. He detailed one such encounter with a skeptical journalist for the Guardian in 2011:
"I'm like, 'Fuck you, you don't know me,'" he spits, grinding a fist into his hand. "And personally, I would want to jump across the table and fucking kill you. 'How dare you question what I'm singing about?' Eventually, I thought: 'OK, you wanna know? This is where I come from!' and I told a journalist things I've never told anybody. And my dad — a policeman — rings me up and says: 'What the fuck do you mean this happened to you when you were a kid? Who did it?' And I was thinking: 'What have I done?'"
It's wrongheaded to look at Bennington's music or his interviews and think, "Well, of course something like this happened"; it's insensitive to him, and it isn't fair to the work or the salvation his music offers to so many fans. Ultimately, he didn't find that same sort of salvation. Sometimes entropy wins, sometimes sorrow breaks the strong. Every day that it doesn't, and every song that staves off that outcome, is worth celebrating.
Mic has ongoing music coverage. Follow our main music hub here.