SNES Classic preorders still haven't hit the US — but you can get this book instead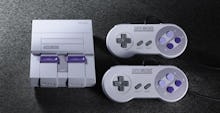 People are hyped about Nintendo's upcoming SNES Classic, a mini-edition of the Super Nintendo Entertainment System, one of the most popular consoles of the early '90s. The SNES Classic Edition is set for release on Sept. 29, but for some reason, Nintendo has been largely silent about U.S. preorders. While the U.K. has allowed buyers to place preorders for the buzzy new console, ordering one in the states hasn't been easy.
There is, however, something to tide over impatient North American fans. Drumroll, please.
SNES Classic preorders aren't available yet, but you can buy this book.
Oh.
Prima Games is coming out with an official Super Nintendo book, titled Playing With Super Power: Super NES Classics Collector's Edition. It's the perfect addition to your coffee table, which likely won't have an actual SNES Classic on it for the conceivable future.
The book includes strategy on old games, trivia and info on how the console affected the gaming industry. It comes out Sept. 29, the same day as Nintendo's SNES re-release.
The book won't do a stellar job of scratching your SNES Classic itch if you're without one come release day, but at least the book looks like a giant Super Nintendo cartridge. Now let's see them come out with a global edition.
You can snag Playing With Super Power for $44.99 at GameStop or for $38.30 at Amazon.
More Nintendo gaming news and coverage here
Check out more video game content on Mic, including which Pokémon are actually the best and why black players can never seem to get custom characters that look like them. Learn more about how blind gamers are getting in on the fun and why Injustice 2 appears to be nerfing its female characters. See why we love Twintelle (and why we hate Twintelle) in the upcoming Arms, and don't miss our guide to dodging blue shells in the Mario Kart 8 Deluxe — you can thank us later.