Want to get richer playing video games? How you can get paid thousands of dollars through gaming.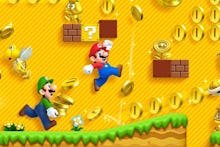 "Aren't video games a waste of your time?" is something we've all heard from that one friend. Okay... maybe it's more like those five friends.
But the truth is there's no shame in having a hobby you love and that you're good at, no matter how much you get teased for it. And what if — like Mario in Super Mario Run — you could actually collect serious coin in the process?
The good news: It is possible! If your gaming addiction is really more of a passion than a pastime, it might be time for you to try to profit from your talents: You can get paid literal thousands of dollars a month and maybe more.
That would certainly silence the haters. Want to learn how? Here are four of the best ways to make bank from gaming:
1. Video streaming
Odds are, this method of making money — broadcasting your games — is what first comes to mind when you think of getting paid. Luckily, with this donation-driven option you can play without quitting your day job (unless you want to) and you get to choose only your favorite games, if you prefer.
A great platform for earning cash this way is Twitch — one of the most prominent video game streaming sites. Fans viewing your stream can donate money to your account if they like your work. Twitch even offers monthly subscription options to nudge users to pay streamers.
If you really want to make bank, you'll want to become a Twitch "Partner" or "Affiliate." To be a Partner, you'll need an established, growing audience and to make sure you're broadcasting, or playing games live online, three times a week, as Twitch mentions in its guidelines. For Affiliates, Twitch requires an average of only three concurrent viewers over the last 30 days and 50 followers for you to be able to apply.
How can you thrive as a Twitch streamer? Along with the obvious suggestion of be entertaining on camera, Twitch pro Ray Narvaez offered Mic two other pieces of advice for fledgling streamers: Interact with your chat room and be consistent with your schedule.
"Even if it's one or two days a week at a specific time," Narvaez said, "let people know when they can find you for sure." Narvaez also recommended playing newer games, though obscure ones can be lucrative, too. "If a developer wants you to play their game," Narvaez said, "you can get some money from that."
So how much cash do Twitch streamers make? It depends, but estimates weigh in at anywhere from $2,000 to $5,000 a month. And Narvaez maximizes his earnings by using a YouTube account to complement his Twitch channel.
"YouTube is an archive for my Twitch streams," Narvaez said, referencing Twitch's policy to save videos for a maximum of 60 days. YouTube lets him diversify his income: "I signed up for Google AdSense," he mentioned, "[which lets you] make money off your videos based on ads." It's not Narvaez's primary source of income, but it's an extra revenue source — requiring minimal effort. "It's a little bit [of money] here and there, but better than nothing, considering I'm doubling up on the same content."
2. Competitive gaming
Making even bigger bucks means really upping your game. Sure, playing against pros in tournaments is probably the toughest way to keep your gaming sessions lucrative, but there's a seriously large payout if you've got skills.
The recently completed Evo 2017 saw first place winners walk away with more than $35,000 for excelling in games like Street Fighter V and Injustice 2, and more than $9,000 for Super Smash Bros. (shown below). While Bayonetta high-flying kicks won Salem the grand prize for Smash this EVO, even those who came in second and third walked away with thousands of dollars.
Other tournaments for games like Dota 2 award teams six and seven figures in prize money, and the same for sports games like NBA 2K17. For top winning teams, that might mean taking home $50,000 — or more — per person.
You just have to be the best in the world, no big deal.
3. Getting sponsored
If you're really good at gaming, another option to consider is trying to get a sponsorship. Companies will pay you to bear their logo on your clothes and throughout your social media profiles. Red Bull, Coca-Cola and even Doritos are among the top sponsors for pro gamers.
What does it take to get noticed by companies? Many of the same skills that lead to being a good streamer overlap with qualities sponsors seek, which include being very talented or very entertaining.
Like the MVG-sponsored Salem or the Red Bull-sponsored Darryl Lewis and William 'Leffen' Hjelte, you must show that you can pull in eyeballs — and companies will want to get in on the action.
While brands and individuals are notoriously coy about how much sponsorships really pay, CEO of Twitch influencer marketplace company Ader Justin Warden recently wrote on Quora that mid- to top-tier influencers could make between $5,000 and $20,000 per month for a batch of four creative campaigns, while playing a new game ("playthroughs") might net someone $300 to $3,000 per hour.
4. Game testing
Maybe you love gaming — but tournaments and sponsorships are not your jam. Still want to get paid? No problem!
While the typical ways to make money by gaming require god-like skills, that's less necessary for game testing. Instead of playing against the best players in the world, you'll be going up against the bugs in prototype software. And instead of trying to be entertaining on camera for viewer donations (or brand sponsors), you'll act office-appropriate — because you're literally at work.
How do you track down a game tester gig? The internet, of course. Sites like Indeed, Monster and Glassdoor are worth thumbing through. Depending on experience and responsibility, earnings vary widely; average hourly pay is a little more than $15, according to Indeed, and Glassdoor listings show salaries for testers ranging up to $75,000 a year.
Be sure to also follow "job opening" accounts on Twitter, like ones from Nintendo, Playstation and even Amazon's Game Studios, to see the latest postings. Pro-tip: Turn on mobile notifications to save yourself extra work.
Many postings require you to have experience in quality assurance testing and know how to spot bugs. You don't have to be a pro gamer, but you do need to be at least a little on point if you plan on making gaming your nine-to-five.
Aug. 7, 2017, 1 p.m.: This story has been updated.
Sign up for the Payoff — your weekly crash course on how to live your best financial life.