Prominent alt-right troll responds to ADL's hate designation with Auschwitz video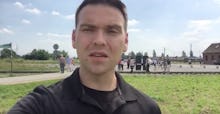 The Anti-Defamation League, the nation's most high-profile Jewish civil rights group, recently placed well-known alt-right provocateur Jack Posobiec on their list of "alt-lite" leaders. Posobiec responded with a Twitter video from the Auschwitz-Birkenau Memorial attacking the ADL.
"It would be wise of the ADL to remember the history of what happened the last time people started going around making lists of undesirables," Posobiec said before panning the camera to the memorial where the famous Nazi death camp once stood.
In a statement to Talking Points Memo a spokesperson for the ADL said that making such allegations on the hallowed ground of Auschwitz is "offensive and twisted and, unfortunately, proves the point about our research."
The ADL released it's list of alt-right and alt-lite leaders in a post titled "Naming the Hate." Alt-right trolls on Twitter immediately jumped to the defense of several names on the list including Posobiec.
Earlier in the day, Ohio Republican Senate candidate Josh Mandel tweeted his support for Posobiec as well as Mike Cernovich, another famous alt-right leader on the ADL's list.
Ironically, Posobiec had been featured in the less-overtly bigoted but still concerning, "alt-lite" category on the list. Perhaps this latest stunt will change that.