Trump's legal team spokesman resigns after just two months on the job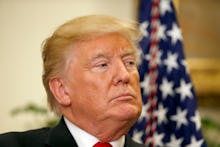 After just two months on the job, Mark Corallo, the spokesman for President Donald Trump's legal team, has resigned, according to multiple reports.
The news comes just one day after Trump, in a lengthy interview with the New York Times, pushed back on the investigative efforts of special counsel Robert Mueller and the team tasked with investigating Russian collusion in the 2016 presidential election — implying that their office was abundant with conflicts of interest and saying that an examination of the Trump family's finances would be "a violation."
According to Politico, the adversarial relationship between Trump and Mueller — and the Trump administration's strategy of publicly discrediting Mueller — didn't sit well with Corallo, and may have contributed to his decision to leave the office.
From Politico:
Corallo has been close to special counsel Robert Mueller, who is leading the Russia investigation, and has praised him publicly. He didn't like the strategy to attack his credibility, one person who spoke to him said.
According to the report, Corallo also told at least one person that he took issue with the fact that there was "too much fighting all the time," in the Trump White House, raising specific concerns about tensions among lawyers and whether or not he was being told the truth regarding key issues.
Corallo previously served in the George W. Bush administration as a crisis management expert, and had also worked under John Ashcroft at the Justice Department.