Russian official says they are still working with Trump administration on cybersecurity group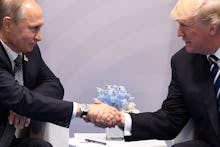 In a classic "will they or won't they," President Donald Trump and Russian President Vladimir Putin appear to be back together on the issue of cybersecurity.
On July 9, Trump tweeted that he was working with Putin on "forming an impenetrable cybersecurity unit so that election hacking, and many other negative things, will be guarded."
Hours later he reversed course in another tweet, saying, "The fact that President Putin and I discussed a cybersecurity unit doesn't mean I think it can happen."
Now it appears the joint cybersecurity unit is back on, at least as far as Russia is concerned. According to a report in the Hill, Andrey Krutskikh, a top adviser to Putin, told a Russian news agency on Thursday that talks about a joint group were still ongoing with the White House.
Trump's initial comments came after a two-hour meeting with the Russian president earlier this month.
Shortly after his first tweet, politicians from both sides of the aisle began lambasting the idea of forming a partnership on cybersecurity with the country that the United States intelligence community broadly agrees committed a cyberattack against the U.S. election last fall.
"Partnering with Putin on a 'Cyber Security Unit' is akin to partnering with Assad on a 'Chemical Weapons Unit,'" Sen. Marco Rubio (R-Fla.) wrote on Twitter.
Sen. Lindsey Graham (R-S.C.) said of the plan, "It's not the dumbest idea I've ever heard, but it's pretty close."
After the criticisms began to roll in, Trump reversed his position on the plan.
But days later Trump held a previously undisclosed meeting with the Russian president at the G-20 Summit in Hamburg, Germany. No one else other than Putin's interpreter was present for that meeting.