'Splatoon 2' Nintendo Eshop Down: Error Code 2811-7503 strikes as fans overload servers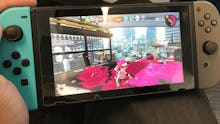 The Splatoon 2 release date is here, meaning the game can finally be downloaded via Nintendo's eShop! At least, that's what was supposed to happen. Instead, Splatoon 2 hopefuls had to go through the pain and agony of Error Code 2811-7503 on the game's launch night just to snag the game.
The 'Splatoon 2' Nintendo Eshop Down: Release date woes lead to botched downloads, but charged credit cards
The saga began early in the morning of July 21, just after midnight ET. Nintendo Switch owners flocked to the gates of the eShop, a gate that was apparently not large enough to fit everyone. If you were asleep, here's a glimpse into what went down.
Which led to outrage online. On Reddit and on Twitter.
And finally, an official behind-the-scenes look at Nintendo's eShop last night.
The problem is understandable: the launch of a Nintendo game is always going to have fans of the console rushing to get it on day one. But Nintendo already knows the answer for how to solve this. They even make use of it in their other video game consoles.
The 'Splatoon 2' Nintendo Eshop Down: Server issues shine a spotlight on the Switch's lack of preloading abilities
Nintendo's Wii U and 3DS allow you to preload games. Instead of everyone grabbing a digital version of the game the night it comes out, players can download most of the game in advance of the release date and snag a tiny update that gives them the ability to actually play it. So instead of everyone trying (and failing) to download a big file all at once, everyone already has the big file — they're just waiting on Nintendo to hand over the keys to unlock it.
Until the Switch gets the ability to preload game downloads, we'll likely see more crashes come alongside large game releases. The console may not have any very high profile games coming until October's Super Mario Odyssey, but something tells us Ryu may have a few more hurricane kicks in him until then.
Check out more Nintendo news and coverage
Check out more video game content on Mic, including which Pokémon are actually the best and why black players can never seem to get custom characters that look like them. Learn more about how blind gamers are getting in on the fun and that Injustice 2 appears to be nerfing its female characters. See why we love Twintelle (and why we hate Twintelle) in the upcoming Arms, and don't miss our guide to dodging blue shells in the Mario Kart 8 Deluxe — you can thank us later.