Plus-size model Kelvin Davis on what it's really like to shop as a plus-size man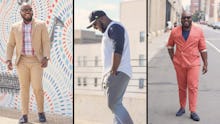 Model Kelvin Davis has dedicated the past few years of his life to shedding light on how it really is like to be a plus-size man. He's appeared in ads with Chubbies, spoken out after appearing in an ill-advised male body positivity joke for Aerie and dishes out encouraging words for bigger guys nearly every day on his blog and Instagram, Notoriously Dapper.
Now, in an interview with Mic, Davis is revealing what first inspired him to start his body positivity blog for men. It all started with a disappointing shopping experience at an Express Men, where he couldn't find what he wanted in the size he needed. "I went to go get a red blazer and it did not fit," he said. "They did not have any larger sizes. That was my first time really having an experience with clothing not fitting the proper way."
Turns out, shopping as a plus-size man really isn't any better than shopping as a plus-size woman.
"I remember going to Gap, Express and a couple of other companies, and all of the blazers were very slim-fit, and they all fit the same and they really wouldn't come over my shoulders and they wouldn't even button."
For Kelvin himself, he's at the point where if he were to go up a size, he wouldn't be able to shop in any mainstream retailers at all, and would have to resort to big and tall stores, which have a stigma akin to specialty plus-size stores.
"I wear a XL/XXL, so XXL is where a lot of companies stop. So, I'm like at the last bit. If I get any bigger, which I probably will over time, then I would have to shop at, I don't know, big and tall stores that are meant for very, very tall men. But, I don't really know why companies are not making larger sizes."
You can watch Davis' interview about shopping below.