The Russia investigation may have reached a "pivot point"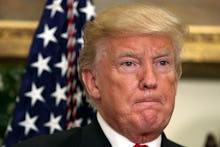 This is Mic's daily read on Donald Trump's America. Welcome to the political newsletter that is already giving you voter turnout predictions for 2018.
Want to receive this as a daily email in your inbox? Subscribe here.
What we're watching:
Today: The president is reportedly looking into pardoning himself.
More: He may also be considering firing Robert Mueller.
Even more: The new Democratic party message leaves some progressives out in the cold.
Yes, more: Trump may have found his communications director.
Trump's agenda today: Giving credentials to newly appointed U.S. ambassadors. Meeting with survivors of the U.S.S. Arizona.
A "pivot point" in the Russia investigation?
"If you're trying to fire prosecutors ... we're coming toward a real crisis," Ron Hosko said in an interview Thursday afternoon. The head of the Law Enforcement Legal Defense Fund, who once oversaw the criminal investigative division of the FBI, Hosko said that President Donald Trump considering interfering with or firing special counsel Robert Mueller would be a "pivot point" for the country in the Russia investigation.
Hours later, that hypothetical pivot point started to become a reality.
The New York Times reported Trump's attorneys are looking for ways to discredit Mueller's Russia investigation — and potentially fire the special counsel. According to the Washington Post, the president's lawyers, at Trump's request, are investigating his ability to grant pardons to his staff, family and even himself. Both publications reported the lawyers are looking for potential conflicts of interest among Mueller's attorneys.
It's not clear what would happen if the president tried to fire Mueller or direct his investigation. What is clear: It would trigger a legal and constitutional crisis. Sen. Mark Warner (D-Va.), the Democrat leading the Senate investigation into Russian hacking, said as much on Thursday: "Pardoning any individuals who may have been involved would be crossing a fundamental line."
Trump attorney Jay Sekulow told the Associated Press, "[We] will consistently evaluate the issue of conflicts and raise them in the appropriate venue."
The news came after Bloomberg reported Mueller is scrutinizing Trump's past business relationships with Russians, including the sale of a Palm Beach, Florida, mansion to a Russian oligarch in 2008. Trump's attorneys said they viewed digging into the president's financial history as "beyond the scope" of the investigation, something Trump echoed in a Wednesday interview with the New York Times.
The president is also shaking up his legal team. Marc Kasowitz, his longtime personal attorney, is out, CBS reported. Mark Corallo, the spokesman for the legal team, is also gone.
A little more: Former agents and historians explained why the FBI has never reported to the president — and why it never should.
On the Mana-front: Former Trump campaign chairman Paul Manafort is being investigated by Mueller for potential money laundering.
Today's question: Are we at a turning point in the Russia investigation? Email your thoughts to trumpsamerica@mic.com.
We're seeking your support to expand our coverage of Donald Trump. As little as a $1 a month will give you access to an exclusive group to interact with Mic journalists and grow our reporting. Learn more here.
The Democratic party's new message: Jobs, jobs, jobs
There will be no debate about social issues in the new Democratic party's new pitch, which is likely to rattle some progressive groups. Early reports suggest the new plan will focus narrowly on how to increase wages and improve Americans' economic situations. The proposal, set to be released on Monday, will focus on more affordable college, higher wages and rebuilding America's infrastructure.
Two-thirds of 2018 voter dropoff expected to be driven by millennials
Forty million Americans who showed up to the polls in 2016 are not expected to return in 2018. Two-thirds of that drop will include millennials, unmarried women and people of color, according to a new study. That bodes poorly for Democrats, who are hoping to make gains against Trump and Republicans in the midterm elections. The study is based on the expected usual drop between presidential and midterm elections.
News and insight you cannot miss:
Russia's foreign minister told NBC News there may have been even more Trump-Putin talks at the G20 Summit than previously reported.
Trump called for working with Russia on a cybersecurity unit. Then, he said he wasn't. Now, a Russian official says talks are ongoing.
Anthony Scaramucci, a top Trump surrogate and former hedge fund investor, may become Trump's communications director.
Education Secretary Betsy DeVos said protests against her are a "badge of honor."
As he fights to keep his influence in the White House, Steve Bannon is still attending National Security Council meetings.
Read my scoop on Sen. Bernie Sanders making the first move against a little-noticed but fast-moving energy bill that could increase fracking.