Note to Ryan Murphy: 'American Horror Story' reveals don't need to be a scavenger hunt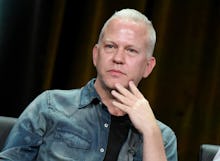 Dear Ryan Murphy: If long, drawn-out reveals for a Game of Thrones premiere date had fans seeing red, what makes you think people have the patience to do the same for American Horror Story?
After tossing out a handful of teases regarding AHS's "election-themed" seventh season via social media over the past several weeks, the creator of the creepy anthology series finally got down to business in recent days. First Murphy confirmed that Lena Dunham would be joining the AHS cast for the latest installment, teaming up with previously announced cast members Sarah Paulson, Evan Peters, Billy Eichner and Billie Lourd. And on Thursday night, the title and premiere date for the seventh season were unveiled following a "special stunt" adjacent to the FX booth at Comic-Con.
Per FX, the "special stunt" merely directed fans to a brand-new website, www.AHS7.com, which revealed — along with a disturbing, clown-filled teaser — that American Horror Story: Cult will debut on Tuesday, Sept. 5.
Given the buildup to this reveal, the end result was an anticlimactic one, especially considering that in order to obtain more breadcrumbs, aka "exclusive AHS content," in the coming weeks, the website requires visitors to sign up through Facebook and await "instructions."
As it turns out, it was far easier for folks to get intel on the new season Thursday night by heading over to Twitter and posing questions directly to Murphy. The AHS showrunner offered up the setting for Cult (Michigan), the number of episodes (11), a few character names (Paulson will play "Ally" and Peters will be "Kai") and confirmation that AHS alums Frances Conroy and Mare Winningham will be back.
Now, if this was a show that fans were still clamoring over, like, say, Game of Thrones or Outlander, the hoop-jumping here would be understandable. But let's face it: AHS doesn't have the pedigree that it once did. 2016's installment, American Horror Story: Roanoke, was deemed one of the "weakest" seasons by IndieWire, and inspired a piece by MTV that posed the blunt question, "Was American Horror Story: Roanoke any good?" (According to the MTV writer, the answer is no.)
With interest already waning in the show, making viewers put in extra effort just to get whatever tidbits Murphy is willing to throw out seems counter-productive. Besides, it's not like he needs to court fans anymore, because FX has already confirmed that AHS will be around for a couple of more years at least.
In my estimation, the show has suffered since Jessica Lange's departure. One could also argue that Murphy's tendency to stretch himself thin overseeing multiple anthology series — the debut installments of both American Crime Story and Feud were far more compelling than recent seasons of AHS — also had an effect on the long-running series' quality.
Perhaps I'll be proved wrong when American Horror Story: Cult premieres Tuesday, Sept. 5 on FX at 10 p.m. Eastern. Unless it requires some sort of blood initiation rite just to access the first episode.
Mic has ongoing 'American Horror Story' coverage. Follow our 'AHS' hub here.